July's U.S. Labor-Market Numbers Will Probably Look Familiar
By
Job gains put measure of pre-recession employment within reach

Pace of wage growth seen as little changed from late 2015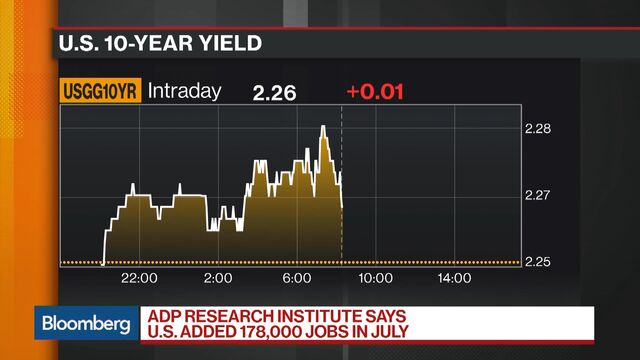 The U.S. labor market -- marked this year by solid job gains, modest wage growth and falling unemployment -- probably delivered more of the same in July.
Job vacancies remain elevated and point to ongoing demand, while the economy has kept expanding amid healthier household incomes, relatively strong consumer confidence and global growth that's providing more support to U.S. exporters. Meanwhile, Americans coming off the sidelines and back into the the workforce may be keeping wage gains subdued. The July report should be free of quirks such as those related to the weather or the end of the school year that sometimes affect the data.
Preview of Employment (July)
Payrolls seen rising 180k after 222k gain
Jobless rate seen falling to 4.3% from 4.4%
Avg. hourly earnings seen rising 0.3% m/m after 0.2%; seen rising 2.4% y/y after 2.5%
The steady payroll gains have put the U.S. on the verge of a key milestone: returning to pre-recession employment levels while also absorbing the number of new labor-market entrants. Employers need to have added just 193,000 workers to close this so-called jobs gap since the last downturn, according to the Hamilton Project, an economics-focused offshoot of the Washington-based Brookings Institution.
The estimate for July payrolls is in line with the 180,000 monthly average so far in 2017 and close to last year's 187,000. The expected decline in the jobless rate would match May's as the lowest in more than 16 years. Year-over-year wage growth, however, probably ticked down to tie for the smallest gain since September 2015.
"We're all kind of expecting you'll get what you've got on average," said Michael Gapen, chief U.S. economist at Barclays Capital Inc. in New York.
The report will give a scorecard for the first six full months of President Donald Trump, who earlier this week said "jobs are starting to roar, watch!" The numbers don't yet back that up: The average monthly gain of about 173,000 jobs since he took office is down from the average of 187,000 last year.
Investors in both bonds and stocks have been buoyed by healthy employment figures of late. In the 30 minutes of trading after the monthly reports were released this year, futures on the S&P 500 Index have advanced and the yield on 10-year notes has fallen in five of the past seven months.

As for employers bemoaning the challenges in pulling from a dwindling pool of unemployed, Gapen doesn't see that slowing down the pace of hiring anytime soon amid solid demand. 
"Those things are real, but on balance, it's still an economy where you can add employment," he said.
The still-strong monthly payroll additions might also help explain why wages aren't rising more quickly. Employers haven't been desperate enough to ante up in order to retain or attract workers, with growth in average hourly earnings holding below the 3 percent seen before the last recession started. Even so, a wage measure from the Federal Reserve Bank of Atlanta, which tracks individual workers over time, and is therefore not as exposed to massive shifts such as mass retirement, shows a brighter picture for paychecks.
For the July release, the year-on-year average hourly earnings figures could look disappointing given that July 2016 posted a strong 0.4 percent pace.

July also is slated to show a further decline in joblessness, with the headline unemployment rate matching its lowest level since 2001. Broader measures, such as the underemployment rate -- which includes those working part-time and those not in the labor force who would take a job if it were available -- have more slowly returned to pre-recession levels.
On the whole, even if the July jobs numbers don't quite match the estimates, Fed officials are unlikely to change course based on this report. While policy makers have expressed worry about slowing inflation and weak wage growth, they've signaled they're on track to begin shrinking the central bank's $4.5 trillion balance sheet and to increase the benchmark interest rate once more in 2017.
"Our conviction that we are at full employment is relatively high," Goldman Sachs Group Inc. economists led by Jan Hatzius said in a July 28 research note. "Other labor market indicators -- including job openings, quits, reported skill shortages, and household assessments of job availability -- are if anything indicative of an even stronger labor market than the official unemployment rate."

Americans have become increasingly optimistic about their ability to find new work. The difference between those saying jobs were plentiful versus hard to get widened last month to 16.1 percentage points for the biggest gap since 2001, according to Conference Board data.
Any improvement in the unemployment rates would be welcome news if joined by a stable or increasing participation rate, showing the economy can absorb more workers coming off the sidelines. That rate has, in fits and starts, risen from an almost four-decade low of 62.4 percent in September 2015. 
Broadening the labor force, particularly as baby boomers approach retirement in waves, remains a tough hill to climb. At 62.8 percent, workforce participation is still the worst-performing indicator on Federal Reserve Chair Janet Yellen's labor-market dashboard, which measures various gauges of jobs and wages against their pre-recession averages.
— With assistance by Chris Middleton
Before it's here, it's on the Bloomberg Terminal.
LEARN MORE