Julius Baer Expands in Britain as Rivals Plan Brexit Moves
By and
Bank says two-thirds of U.K.'s wealth is held outside London

Zurich-based bank seeking experienced private bankers in U.K.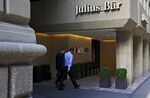 Julius Baer Group Ltd., Switzerland's third-largest publicly traded private bank, is expanding in Britain at a time when other lenders are fleshing out plans to move some employees to continental Europe in response to Brexit.
The Zurich-based lender has hired client advisers for offices opening this year in Manchester, Leeds and Glasgow, giving businesses and wealthy individuals based in and around the three cities access to a local team of private bankers, the company said in a statement on Thursday. Two-thirds of the U.K.'s wealth is held by people outside of southeastern England, it noted.
Julius Baer, which currently employs 180 people in the U.K., didn't specify the number of new recruits but said they all have "proven experience." That suggests they already have clients they might bring with them.
The Swiss bank has turned to recruitment to expand its asset base with earnings under pressure from subdued client activity. The hiring spree led to a surge in inflows in the first half, when client money under management grew 6 percent to 355 billion francs ($366 billion), the bank said in its earnings report last week.
No 'Grand' Plans
Many global banks are shifting at least some London operations to the continent because of the possibility that Britain will be left out of the single market once its leaves the European Union. That may prevent them from being able to easily do business with customers in the bloc, known as passporting rights.
Deutsche Bank AG envisions shifting almost half its U.K. positions over coming years as the lender's Brexit plans take shape, people briefed on the matter said. Most of the 4,000 positions will move to Frankfurt and Berlin under the bank's base case scenario, the people said.
Julius Baer is moving its European hub from Frankfurt to Luxembourg but is keeping open its options in London, Chief Executive Offficer Boris Collardi said last week that the bank has room to grow in the U.K. but that "we're also not necessarily making grand plans for expansion."
While Brexit has raised doubts about the U.K.'s future economic appeal, a report earlier this year suggests the super-rich will continue to be drawn to the country. The number of ultra-wealthy people living in London itself is expected to climb by 30 percent to 6,058 over the next decade, according to a report by property broker Knight Frank LLP. These are people with $30 million or more.
Before it's here, it's on the Bloomberg Terminal.
LEARN MORE