Guggenheim Is in Fund Sale Talks With Invesco
By
Invesco may be interested in firm's ETFs and mutual funds

Deal for part of investment unit could bring $2 billion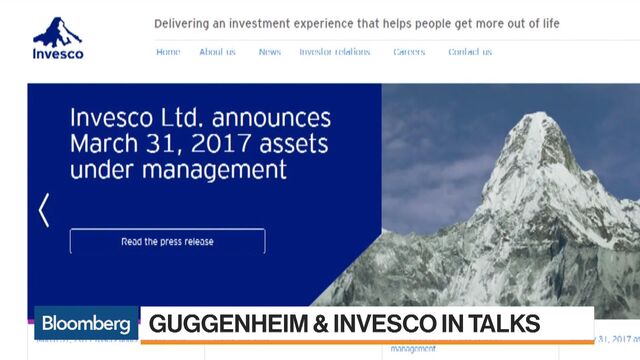 Guggenheim Partners is in talks to sell part of its investment-management unit, including mutual and exchange-traded funds, to Invesco Ltd., according to two people with knowledge of the discussions.
Guggenheim is seeking as much as $2 billion for the retail funds, which oversaw about $66 billion as of June 30, said one of the people who asked not to be named because the information is confidential. Guggenheim isn't selling its institutional funds, which make up most of the firm's $237 billion in assets overseen by Chief Investment Officer Scott Minerd, according to a third person with knowledge of the deal.
Michael Sitrick, an outside spokesman for Guggenheim, and Invesco spokeswoman Jeaneen Terrio both said they don't comment on rumors.
The negotiations come as Invesco and other asset managers seek to increase the amount of money they oversee amid growing pressure to slash client fees. Invesco had $858 billion in assets under management as of June 30, including about $125 billion in its PowerShares ETFs.
Invesco said in April that it was acquiring Source, a European-based ETF provider with $18 billion under management. Terms of that deal weren't disclosed.
Invesco Deals
Guggenheim's largest ETF is the $13.7 billion Guggenheim S&P 500 Equal Weight ETF and its largest mutual fund is the $7.4 billion Guggenheim Total Return Bond Fund. Insurance industry funds are the biggest source of investments at Guggenheim, totaling about $100 billion as of Dec. 31, according to trade publication Insurance AUM.
A deal is unlikely to be struck before September, according to two of the people. Invesco is particularly interested in Guggenheim's BulletShares ETFs, which are composed of bonds maturing at fixed terms, enabling investors to build laddered portfolios, one person said.
With headquarters in Chicago and New York, Guggenheim also has investment-banking and insurance divisions.
Guggenheim Investments' President Jerry Miller, whose appointment was announced last month, has done deals with Invesco before. As Deutsche Bank AG's head of asset and wealth management in the Americas unit in 2014, he oversaw the transfer of ETFs with $8.2 billion in asset value to Invesco PowerShares.
Separately, Bloomberg reported on Wednesday that three senior bond traders have left Guggenheim Partners' securities unit in recent weeks, one to join Jefferies Group LLC, according to a person with knowledge of the matter, and a portfolio manager confirmed he has quit the firm's asset-management unit.
Andrew Arthur, a managing director in sales, and junk-bond trader Luke Lawrence have departed, said the person, who asked not to be identified discussing personnel. Matt Bagley, a distressed-debt trader, now works for Jefferies, according to Financial Industry Regulatory Authority records.
Eric Gould of Guggenheim Investments resigned, he said in a telephone interview Wednesday.
Read more: Three senior traders, money manager are said to exit Guggenheim
— With assistance by Sonali Basak, and Ivan Levingston
Before it's here, it's on the Bloomberg Terminal.
LEARN MORE