markets
Five Things You Need to Know to Start Your Day
Get caught up on what's moving markets in Asia.
By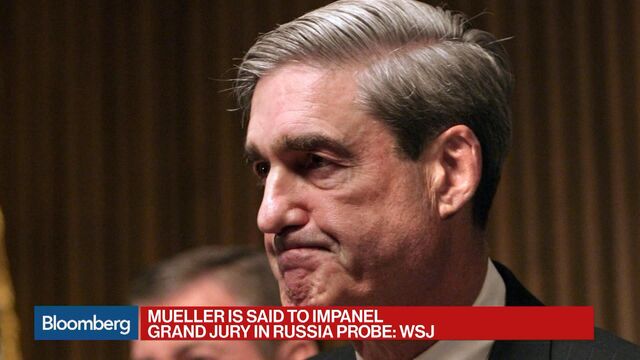 Want to receive this post in your inbox every morning? Sign up here.
Grand jury formed in Trump-Russia investigation, China ready for trade war, and it's jobs day. Here are some of the things people in markets are talking about.
Grand Jury Impaneled
U.S. stocks, the dollar, and bond yields had a synchronized slump after the Wall Street Journal reported that Special Counsel Robert Mueller has impaneled a federal grand jury in his criminal probe of Russia's interference in the 2016 U.S. election and potential collusion with the campaign of now-President Donald Trump. Reuters reported that subpoenas have been issued related to the meeting between Donald Trump Jr., Russian lawyers, and other parties in June 2016. On Thursday, U.S. Senators introduced legislation that would protect the special counsel from being fired by the president. 
China Trade War?
China would prefer peace, but is prepared for a trade war. With U.S. officials reportedly readying a probe into alleged violations of intellectual property rights, Beijing responded by saying it pays "high attention" to the matter and wants to cooperate with the U.S.  However, the world's second-largest economy has countervailing measures in its hip pocket to strike back should the Trump administration take action, including curtailing soybean imports. China's leadership will be gathering in the coming days ahead of the Communist Party's twice-a-decade congress this autumn. Meanwhile, a speech that Trump was scheduled to give on Chinese trade Friday has reportedly been canceled. 
Jobs Day
Economists are looking for more of the same from July non-farm payrolls growth in the U.S., with 180,000 jobs added and the unemployment rate dipping to 4.3 percent. Wage growth will be as closely watched as ever. While the numbers will be released after the close of trading in Asia, they're sure to set the tone for next week. In the Asia Pacific region, there's a dearth of high-level data out. Japan labor cash earnings are forecast to rise 0.5 percent year-on-year in June while Aussie retail sales are projected to rise 0.2 percent month-on-month, a moderation from May's 0.6 percent advance.
Pounded
The British pound was the worst-performing G10 currency after the Bank of England kept rates at record lows and cut its forecasts for economic and wage growth. The central bank suggested that Brexit could be to blame for sluggish pay gains, and its outlook for activity could be further trimmed should the exit from the E.U. be anything but "smooth." Ahead of the BOE's release, the IHS Markit Services purchasing managers' index pointed to "sluggish" growth for the U.K. Britons' pessimism on the economy has risen markedly since the snap election was called earlier this year.
Futures Mixed
South Korean President Moon Jae-in might not be so market-friendly after all. The new leader's plan to increase taxes on the nation's biggest firms and highest earners wreaked havoc on the Kospi Thursday, paving the way for a 0.5 percent decline for the MSCI Asia Pacific Index. Nikkei 225 futures are trading in the red as of 5:30 a.m. Tokyo time, thanks to the Japanese yen's G10-leading performance as investors flocked to safe havens after the U.S. Russia grand jury news. S&P/ASX 200 futures are little changed.
What we've been reading
This is what caught our eye over the last 24 hours.
Before it's here, it's on the Bloomberg Terminal.
LEARN MORE