Buy Time By Delaying Brexit, Business Tells May
By
IOD proposes transition options including EEA membership

New customs arrangements, retaining EU law among other options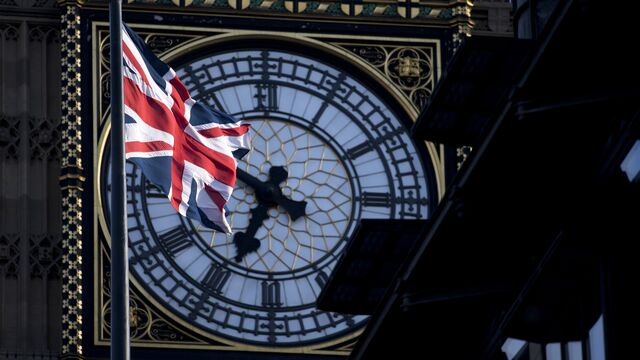 Britain should stay in the European Union past Brexit Day. That is what one of the country's biggest business associations proposes to Prime Minister Theresa May as calls for a fleshed-out transition period gather momentum.
The Institute of Directors has set out a menu of options for how to deal with the increased likelihood that by March 29, 2019 -- when the U.K. formally leaves the bloc -- many parts of the divorce will remain unresolved and cause disruption and chaos to business and markets.
Among the suggestions are brokering new customs arrangements, retaining EU laws and joining the European Economic Area, the group said in a report Friday. The bottom line is that the cabinet should put aside its squabbling and get behind a single plan "as soon as possible." Here are its ideas:
The U.K. and EU agree to extend negotiating time within the next year so that Brexit is postponed until a full trade deal has been brokered. This is "politically contentious."
Membership of the European Economic Area during the transition. This would ensure the U.K. stays in the EU single market, allowing trade to continue with the bloc.
Replicating customs union arrangements including common external tariffs, in order for Britain to retain the benefits of frictionless trade.
Prolonging the application of EU law, known as the "acquis." This would tie in with the EU's own proposals but would mean the European Court of Justice would still have jurisdiction in the U.K., breaking one of May's red lines.
There has been a shift among May's cabinet, including the ardent Brexit supporters, to a view that a transition period is unavoidable. The problem has been over how long this should last and whether the free movement of people between the U.K. and the EU should be allowed to continue in the interim.
The report seeks to convey a sense of urgency in mapping out the specifics.
"There is an urgent need for government to engage properly on the most imminent risk to business from Brexit: what happens -- or doesn't -- on Brexit day," the IOD wrote in the report. "Given the unprecedented and comprehensive nature of trade negotiations to come, mitigating this risk early on is essential to a smooth exit."
Before it's here, it's on the Bloomberg Terminal.
LEARN MORE