markets
Chinese Wealth Manager Plans Branches in Australia and Canada
Bloomberg News
Noah plans to set up branches in Canada and Australia

Firm says overseas AUM may grow 30% annually in next 3-4 years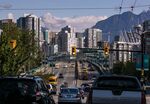 Chinese millionaires' money overseas is backing a local wealth manager's global expansion even as the government steps up controls on capital outflows.
U.S.-listed Noah Holdings Ltd. is planning to set up branches in Vancouver and in Australia this year or early next year and looking into one in Singapore, said group president Kenny Lam in an interview in Shanghai. Even as China clamps down on large overseas corporate acquisitions, Noah Holdings believes that the revenue earned by medium-sized Chinese companies with business operations outside the nation will support a substantial part of its overseas growth.
"When I joined Noah three years ago, I thought clients in second- and third-tier cities had no demand for overseas investment," said Lam, who had worked for 15 years at McKinsey & Co. before Noah. "Then my team brought me to a client meeting in one of those cities, where I met many low-profile entrepreneurs who wore T-shirts and jeans and couldn't speak English. When they told me they had hundreds of millions of dollars overseas because of their businesses outside China, I was really surprised."
China's economic slowdown and property curbs have prompted rich investors to look abroad in a bid to diversify their investments. Concern about a crackdown on overseas investment has risen amid reports that Chinese regulators are stepping up scrutiny of top dealmakers such as HNA Group Co., Fosun International Ltd. and Dalian Wanda Group Co., and asking banks to report their exposures to the companies.
"China is not telling entrepreneurs don't do anything outside," Lam said. "Instead, it's delivering a message that there are a lot of big mergers and acquisitions and we should take a look and see whether they make sense."

Noah, which focuses on high-net-worth investors in China's second- and third-tier cities such as Tangshan and Jiangyin, said the overseas assets it manages for customers may grow as much as 30 percent annually in the next three to four years. The firm, which manages around $3.5 billion to $4 billion of assets abroad, started its first overseas branch in Hong Kong in 2012 and set up the U.S. unit in 2016.
"A lot of customers have come to us, saying we have families in Vancouver and Australia and can you serve them?" Lam said.
Lam said the firm will choose between Melbourne and Sydney for the office in Australia. For overseas investment, Noah takes money that has already been earned outside China, not money from within the country.
Chinese companies' revenue earned abroad from global business may help boost inflows into Noah's overseas funds, according to Lam.
'You have a lot of medium-sized companies that are getting more attractions from global demand," said Lam. "That's an area of growth."
Noah's shares jumped 1.9 percent Thursday, the sharpest increase in more than a week. That compares with a 0.2 percent decline in the S&P 500 Index.
Click here for a story on China's outflows.
An investment related to China Huishan Diary Holdings Co., whose shares suddenly plunged 85 percent on one single trading day in March, had dragged Noah into the spotlight earlier this year. One of Noah's fund products invested about 500 million yuan ($74 million) in client funds in account receivables related to Huishan, which missed payment around the end of March and is going through restructuring, according to Lam.
"We will never bail out any product," said Lam. "We are always transparent with clients, telling them what risks they are taking and what products they are buying. But we can't guarantee them the return."
About 56 percent of high-net-worth investors surveyed had investments outside China, compared with 19 percent in 2011, according to a report released in June by China Merchants Bank Co. and Bain & Co.  Wealthy individuals have more than doubled their overseas investments as a proportion of their total portfolios from less than 10 percent in 2008, the report shows.
"Chinese globally are becoming a lot more active in investment," said Lam. "They were usually recognized as investors of real estate, but they now want to do more."
— With assistance by Judy Chen
Before it's here, it's on the Bloomberg Terminal.
LEARN MORE