Burkina Faso Starts $800 Million Jobs Plan to Combat Militancy
By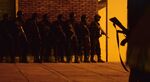 Burkina Faso announced an infrastructure development plan that aims to create jobs and boost economic growth in the country's impoverished northern region, where jobless youths have become prime recruitment targets for Islamist militants.
The 455 billion CFA francs ($819 million) project will prioritize the building of schools, roads, medical facilities and water infrastructure, Prime Minister Paul Kaba Thieba told reporters Thursday in the northern city of Tongomayel. The funds will be disbursed to small and medium-sized businesses to boost employment and prevent the radicalization of young people, Thieba said.
Burkina Faso is fighting an insurgency in its northern Sahel region where most of 33 militant attacks since 2015 took place, causing 50 deaths. The attacks have dented the country's reputation for religious tolerance and mirrors a wider trend in West Africa where strikes in Ivory Coast, Mali, Chad and Niger have killed hundreds of people in the past few years.
Read more: Islamic militancy's threat to West Africa
Militancy is "rooted in extreme poverty and despair," Thieba said. "We know that it's not yet too late to recover."
The nation of 19 million has a per-capita income of $650, according to World Bank data. The project will require 89 billion francs this year and 366 billion from 2018 to 2020, Thieba said.
Before it's here, it's on the Bloomberg Terminal.
LEARN MORE