Brazil's Temer Fumes Over Betrayals, Despite Winning Trial Vote
By
Pension reform still in doubt after corruption trial shelved

Government needs 308 votes to pass social security shake-up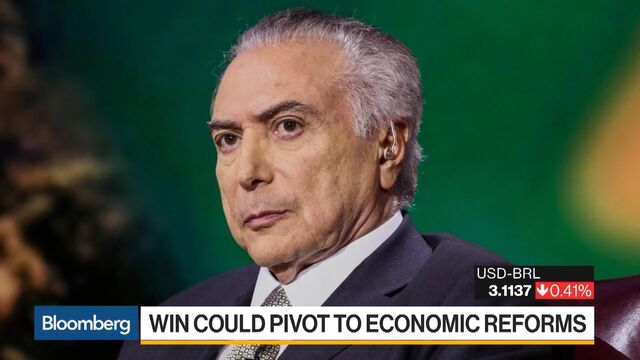 Brazil's President Michel Temer twice stormed out of a cabinet TV viewing of Wednesday's lower house vote on whether to put him on trial, disappointed by the "betrayal" of several legislators.
Though the president's allies eventually defeated the motion to try him by 263 votes to 227, a comfortable margin, Temer fumed over a handful of deputies whose support he had counted on, according to two of those present who were not authorized to speak on the record.
Brazil's Temer Escapes Corruption Trial to Focus on Economy
The president's loss of composure highlights how each vote counts as Temer struggles to both stay in office and haul Latin America's largest country out of years of stagnation. Opponents used the spotlight of Wednesday's vote to rail against him, while most of his allied base offered no more than one brief word of support in an indication of how even loyalists are beginning to distance themselves from the deeply unpopular president.
The defections were particularly painful for Temer, given that he had spent the previous few weeks meeting with over 160 legislators and freeing up substantial pork-barrel spending to waverers. Among those who voted against the president were Roberto Freire, his former culture minister, and several allies of Geraldo Alckmin, the governor of Sao Paulo and possible presidential candidate.
Shortly after the voting concluded, the president appeared on national TV vowing to push ahead with reforms. However, it is highly questionable whether similar tactics would work with the government's crucial pension bill, which needs 308 votes to proceed.
The government's main hope for the social security shake-up lies in winning over the Brazilian Social Democracy Party, or PSDB, the allied party which was divided over whether to put Temer on trial. Many of those in the center-right party who voted against the president on Wednesday may be willing to support the pension reform on ideological grounds.
However, the thesis also works the other way. Many of those who backed the president for reasons of personal loyalty may be reluctant to put their name to a pension bill that remains widely unpopular.
Before it's here, it's on the Bloomberg Terminal.
LEARN MORE