Adidas Second-Quarter Sales Boosted by North America, China
By
North America, China sales advanced 26% and 28%, respectively

Revenue in e-commerce channel rose 66% in the second quarter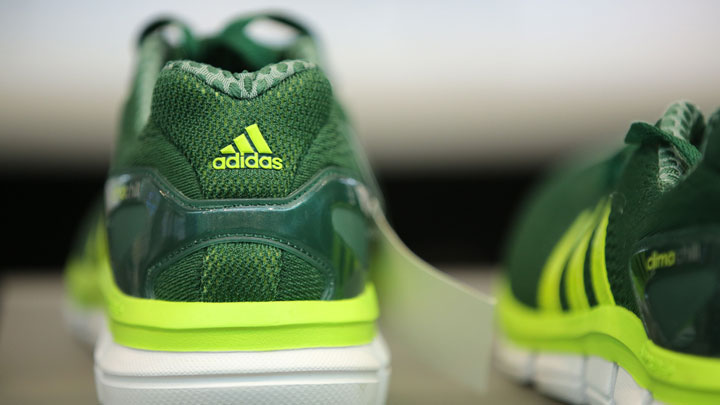 A week after raising its full-year forecasts, Adidas AG showed how increased followings in North America and China are helping it sprint clear of the sporting-goods field.
Second-quarter sales in North America rose 26 percent at constant exchange rates, the German company said Thursday, leaving rivals trailing in its wake as the market slows. Revenue gained 28 percent in Greater China, it added, while also fleshing out forecasts for increased profitability.
Booming demand for retro shoes and a steady stream of new models have made Adidas a hot brand in the U.S. after it fell out of favor for years. Chinese consumers are also flocking toward pricier, premium foreign goods. Adidas brand sales rose 21 percent in the second quarter, accelerating from the first quarter's 18 percent gain.
"Adidas continues to deliver results in excess of already elevated expectations, across all categories in all regions," Piral Dadhania, an analyst at RBC, wrote in a note. "We expect these trends to continue, supported by a strong product offer, focused management team and competitor weakness."
The shares fell 0.5 percent to 190.95 euros at 10:28 a.m. in Frankfurt, tracking the broader market lower. They've surged 7.5 percent since the company raised its guidance on July 27.
Adidas's rapid growth is putting competitors under strain. Under Armour Inc. this week cut its annual sales forecast, while Nike Inc. has projected revenue growth about half the pace of its German rival. Adidas's Reebok brand also saw a slowdown in the second quarter with growth of 5 percent compared with the first quarter's 13 percent increase.
Reebok's first-quarter growth was unusually strong due due to early product launches, and the brand is now returning to a more normalized rate as it continues its turnaround, Chief Executive Officer Kasper Rorsted said on a conference call. Store closures weighed on the brand's growth in the U.S., he said.
"Growth was never the issue at Reebok, it was profitability," Rorsted said. "We're confident with the first initial signs we're seeing. We're six months into a four-year program, so we're asking for patience on it."
Adidas announced key second-quarter earnings last week as it raised its guidance. Earnings before interest and taxes rose 18 percent to 505 million euros ($598 million), while sales increased 20 percent at constant currencies. On Thursday, Adidas also predicted its gross margin will widen by as much as 0.8 percentage points to as high as 50 percent this year.
The company already forecast that net income from continuing operations will rise 26 percent to 28 percent this year, with revenue at constant currencies seen gaining 17 percent to 19 percent.
— With assistance by Richard Weiss
Before it's here, it's on the Bloomberg Terminal.
LEARN MORE