Venezuela's Bonds Collapse as Country Enters New Era
By
Country's benchmark dollar bond due in 2027 fell 16.7% in July

Credit default swaps show 12-month risk of nonpayment at 63%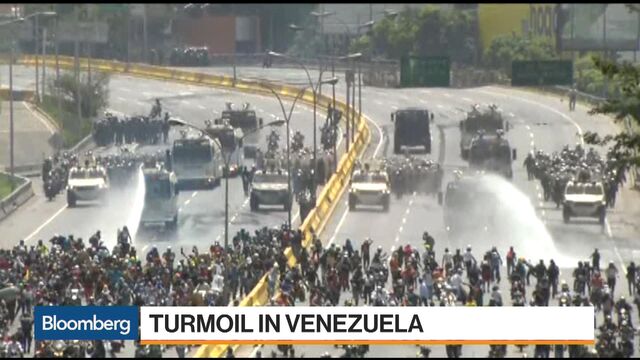 Venezuela's dollar bonds had their worst month since early 2015 as President Nicolas Maduro followed through with his plan to elect a constitutional assembly in a controversial move that ultimately triggered U.S. sanctions against him and members of his cabinet. 
The country's $4 billion of benchmark notes due in 2027 declined 16.7 percent in July to 41.6 cents on the dollar, while state oil company PDVSA's $3 billion of notes due in 2035 declined 17.9 percent to 37.5 cents on the dollar.

Maduro, who has faced four months of violent protests that have left more than 110 dead, has showed no signs of a more conciliatory stance toward the opposition alliance, with its emblematic leaders Leopoldo Lopez and Antonio Ledezma thrown back in jail from house arrest just 24 hours after the government completed an election to select delegates for a so-called constituent assembly tasked with re-writing the constitution.  
While the U.S. has so far held back from imposing broader economic sanctions that would affect the country's oil exports to the U.S., the individual sanctions applied to Maduro and cabinet members have been enough to worry investors in the country's debt. The country's international reserves hovered near a 15-year low for most of the month, even as oil prices rose.
The country faces payments on principal and interest of around $4.6 billion in the remainder of the year. Of that, $1.6 billion is due in October, with another $1.9 billion coming due in November.
For a QuickTake on Venezuela's authoritarian slide, click here.
Venezuela Dashboard Indicators
The implied probability of the country missing a payment over the next 12 months rose to 63 percent in July, according to credit-default swaps data compiled by Bloomberg. That's the highest level since February 2016.
The odds of a credit event over the next five years increased to 95 percent last month
PDVSA's oil export basket price increased 11.2 percent to $44.42 a barrel
Venezuela's international reserves hit a new 15-year low, dropping below $10 billion for the first time since 2002 on July 13
The weakest official exchange rate, used mostly for imports deemed non-essential, was devalued 8 percent to 2,866 bolivars per dollar on the government's Dicom auction system
On the black market, the U.S. dollar still costs more than four times the Dicom rate with the bolivar losing 36 percent of its value in July alone. That's one of the biggest monthly declines ever.
Before it's here, it's on the Bloomberg Terminal.
LEARN MORE