Venezuela Bondholders Are Spooked
By and
PDVSA bond due in November has sunk to 72 cents on the dollar

'Holders of PDVSA are feeling the walls close around them'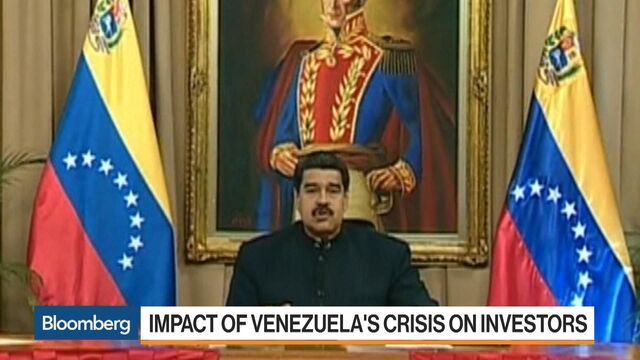 Investors in Venezuela are losing their resolve.
For almost two decades, Wall Street accepted the volatile economic and political situation in exchange for outsize yields and the comfort that, in the end, the government always made good on its debts. The theory paid off, with some of the best returns in emerging markets.
That conviction is finally starting to crack as U.S. sanctions against key government officials and a power grab by President Nicolas Maduro threaten to disrupt financial flows and leave the socialist government either unable or unwilling to meet its obligations. Given stubbornly 
low oil prices, cash reserves near a 15-year low, a collapsing economy, a series of deadly street protests and increased isolation from the international community, Venezuela and the state oil company known as PDVSA have never looked so vulnerable.
"Holders of PDVSA are feeling the walls close around them," said Ray Zucaro, the chief investment officer of Miami-based RVX Asset Management. "With senior management sanctioned, it effectively puts a muzzle on them."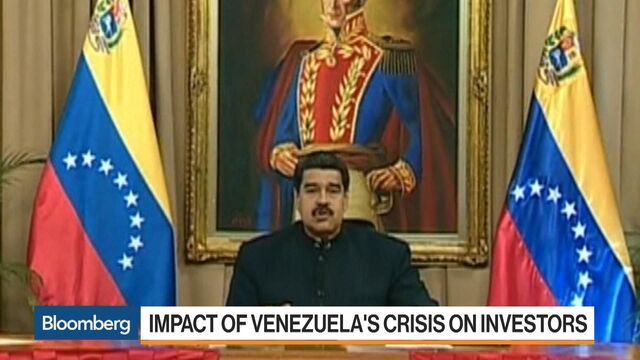 Venezuela's bonds, already the riskiest in the world, have lost almost a fifth of their value in just the past two weeks amid speculation the U.S. could impose sanctions that would cut off oil revenue -- the source of almost all the country's income. So far, President Donald Trump's administration has applied penalties only to individuals after Maduro pushed forward with plans to rewrite the constitution in what critics call a power grab. The U.S. president issued a statement late Tuesday calling Maduro's government a "dictatorship" and urging that all "political prisoners" be released.
More sanctions could still be in the works, and also weighing on investors is speculation that the U.S. will opt for penalties that restrict trading in Venezuela's bonds. The Miami Herald, citing an unnamed official familiar with the government's plans, has reported the U.S. is considering a retroactive ban that would affect existing bonds in addition to any new ones.
One of the clearest signs of the shift in investor sentiment is that notes issued by Petroleos de Venezuela that mature in November now trade at 72 cents on the dollar from as high as 90 cents at the beginning of June. Longer-term debt prices in an even higher chance of a default, with government notes due in 2027 currently fetching just 40 cents on the dollar.
Compliance Bans
The fallout stands in contrast to a developing-nation bond market that's flush with cash, new deals and modest yields. Mutual funds, which often invest passively in Venezuela through indexes, are taking the brunt of the declines after piling into the securities to goose returns. The average yield of 34 percent on government securities far exceeds the 5.5 percent typical for developing markets, according to data compiled by JPMorgan Chase & Co.
One key driver of the recent selloff is that traders are now taking more seriously the possibility that Maduro will choose to stop debt payments, even if he has the cash to pay what's owed. While Maduro has always said the government will make good on its obligations, the thinking is that the U.S. sanctions give him an excuse to end payments.
"People are trying to digest an increase in the likelihood the 'willingness' to pay would be negatively impacted by the increase in sanctions," said Jim Craige, who oversees about $40 billion at Stone Harbor Investment Partners in New York.
The country faces payments on principal and interest of about $4.8 billion in the remainder of the year. Of that, $1.6 billion is due in October, with another $1.9 billion in November.
Investment firms are growing increasingly concerned about any dealings with PDVSA, which has about $32 billion of bonds outstanding, after its finance chief came under U.S. sanctions. The odds of a PDVSA default in the next year have risen to 70 percent from 64 percent a week earlier, according to data compiled by Bloomberg on credit-default swaps.
Compliance departments at at least two major U.S. investment firms have banned meetings with CFO Simon Zerpa for fear of overstepping Treasury Department guidelines, according to people familiar with the matter.
Such limits could curb the company's ability to work out debt swaps with investors, enter joint ventures or sell assets to raise desperately needed cash. That will likely force the nation to further limit imports of basic goods that are already in short supply if it wants to keep paying debt, according to Francisco Rodriguez, the chief economist at Torino Capital.
"What these restrictions generate is less access to financing, deeper import cuts and thus a deeper recession," Rodriguez said. He estimates Venezuela's current account surplus at $6 billion in 2017, which is almost the total of the nation's debt amortizations this year.
Financial deals with Venezuela have been under the microscope since the investing arm of Goldman Sachs Group Inc. bought up almost $3 billion in bonds from PDVSA in May, leading to a probe by the opposition-controlled legislature and scorn from human-rights groups. Critics of Maduro's administration say such deals are propping up a despotic government. In recent months, more than 100 people have died while participating in street demonstrations against the regime.

Zerpa, who is president of Venezuela's development bank and chairman of the board of a Uruguayan bank and pension fund, also helps direct the $45 billion that Venezuela has borrowed from China to boost crude production. He had sought to improve communication with investors through invitation-only conference calls this year, an initiative that never came to fruition.
Some investors say that PDVSA could probably find ways to work around the sanctions and still meet with investors -- perhaps by replacing Zerpa or having another official act as the company's representative. But the company may still be too toxic for compliance officers, and there's also the possibility that more restrictions could be coming.
"Everyday it's getting harder for them to get funding," said Fernando Losada, an economist at AllianceBernstein Holding LP, which trades Venezuelan debt. "The level of shaming for any U.S.-based institution is much higher than before, and soon it may be outright illegal to transact with the government."
Before it's here, it's on the Bloomberg Terminal.
LEARN MORE