Thyssenkrupp Considers Break-Up as Plan B to Tata Proposal, Sources Say
By
Steelmaker would separate bulk of engineering assets

Discussions with Tata have continued for more than a year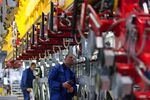 Thyssenkrupp AG is considering a radical breakup plan as a possible alternative to the proposed combination of its European steel operations with India's Tata Steel Europe Ltd., according to people familiar with the matter.
Under the alternative scenario, Thyssenkrupp would retain its European steel operations and hive off most or all of the other activities, said the people, who asked not to be identified because the talks are private. The assets being considered for a separation include the elevator operations and components technology as well as industrial solutions and material services activities, the people said. Those operations combined contributed about 80 percent to Thyssenkrupp's overall revenue last year.
Thyssenkrupp shares briefly jumped as much as 3 percent. They were 0.3 percent higher at 25.66 euros as of 10:12 a.m. in Frankfurt.
While Chief Executive Officer Heinrich Hiesinger and Finance Chief Guido Kerkhoff favor a European steel joint venture with Tata, the alternative scenario shows company leaders are working on several models, and management is in talks with a financial adviser to discuss the option, the people said. Following through on a break-up would resemble the move of German utility RWE AG, which spun off its attractive renewable-energy activities and retained its traditional conventional power business.
A spokeswoman at Essen, Germany-based Thyssenkrupp said the company routinely considers alternative scenarios.
Seperating the attractive engineering operations would help Hiesinger generate much-needed fresh funds for Thyssenkrupp, which has long been criticized by analysts and investors for a thin equity ratio that currently stands at 6.5 percent.
Conversely, creating a joint venture with Tata would help Thyssenkrupp reap synergies. The two sides have held discussions for more than a year, without reaching a final deal, and one of the biggest stumbling blocks is an accord between Tata and the U.K. Pension Scheme that frees the steelmaker from 15 billion pounds ($19.8 billion) in pension liabilities.
Before it's here, it's on the Bloomberg Terminal.
LEARN MORE