SoftBank Default Risks Jump as Son Mulls Charter Takeover
By
Default swaps surge to highest level since January on news

SoftBank's debt to Ebitda is more than double those of peers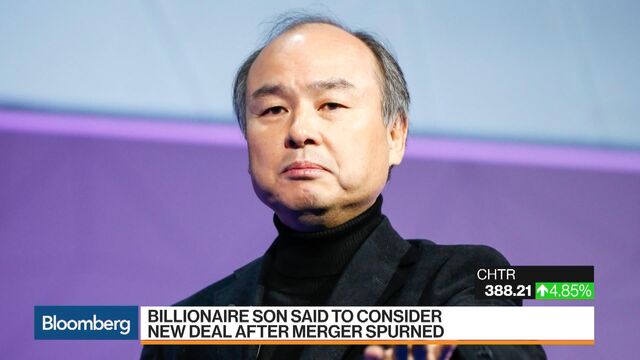 The possibility that SoftBank Group Corp. will pile on even more debt if founder Masayoshi Son goes ahead with a bid for Charter Communications Inc. is starting to spook the bond market.
The cost to insure SoftBank's debt against nonpayment has jumped 17.2 basis points this week to 156.7 basis points on Wednesday, the highest level since Jan. 9, after people familiar with the matter said the company has as much as $65 billion in financing lined up as Son weighs whether to make an offer. The yield premium on the firm's 6 percent dollar perpetual bonds has surged 31 basis points in the period, Bloomberg-compiled prices show.

Going through with an acquisition of Charter would cause SoftBank's already bloated debt burden to balloon even further. The ratio of debt to earnings before interest, taxes, depreciation and amortization at billionaire Son's company is about 5.67, more than double the median of its telecom peers, according to data compiled by Bloomberg. Charter on Sunday rebuffed Son's initial proposal to combine the company with Sprint Corp., which SoftBank controls.
"Investors are probably concerned that SoftBank may borrow a large amount of money to carry out the purchase, causing its leverage to increase considerably," said Toshihiro Uomoto, the chief credit strategist at Nomura Holdings Inc. in Tokyo. He said that the company's credit-default swaps could temporarily rise to 200 basis points from 154 under some circumstances, including SoftBank taking on as much debt as reported by Bloomberg.
The Tokyo-based company has more than $100 billion in net debt. It has about 1.8 trillion yen ($16.2 billion) in loans and bonds maturing next year related to past acquisitions, according to Hiroe Kotera, a spokeswoman for SoftBank in Tokyo. Mitsuhiro Kurano, a public relations officer at the company, declined to comment on the market moves.
Strategic Concern
An attempt to acquire Charter would hurt bond investor confidence in SoftBank as it isn't in line with the company's announced strategic plans, said Toshiyasu Ohashi, chief credit analyst at Daiwa Securities Group Inc. in Tokyo. Ohashi said he is skeptical of reports of such an offer.
SoftBank's yen bonds have kept calm in a sign that domestic investors may find it "premature yet" to contemplate the takeover possibility, said Kentaro Harada, a credit analyst at SMBC Nikko Securities. The premium on the firm's 2.03 percent yen debt maturing March 2024 rose about 1.2 basis point to 186.4 in the first three days of the week.
"We would want more risk premiums than the current levels" should SoftBank move to borrow $65 billion for the purchase, Harada added.
Nomura's Uomoto said SoftBank's CDS could pare gains if the company eventually abandons the Charter takeover, but a return to the previous levels of around 140 may be difficult because speculation will likely persist that the company will keep looking for a big deal.
— With assistance by Finbarr Flynn, and Komaki Ito
Before it's here, it's on the Bloomberg Terminal.
LEARN MORE