markets
Sanctioned PDVSA CFO's Reach Extends to Uruguayan Bank, Pensions
By
Zerpa is chairman of Banco Bandes Uruguay and Integracion AFAP

Uruguay regulators are aware of U.S. sanctions on Zerpa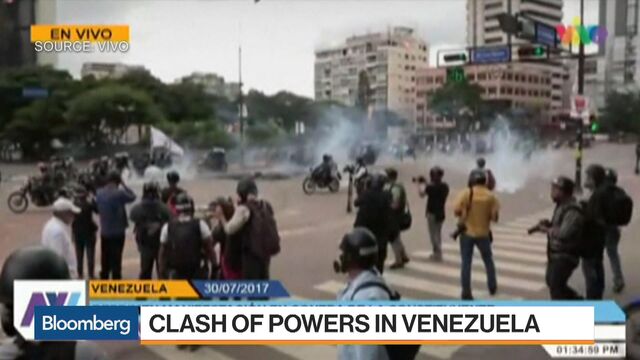 The chief financial officer of Venezuela's state oil company, sanctioned by U.S. authorities last week, is the chairman of two leading companies in Uruguay, a sign of the Venezuelan government's reach across the continent.
Simon Zerpa, 33, is chairman of pension fund Integracion AFAP SA and bank Banco Bandes Uruguay SA, according to filings on the central bank of Uruguay's website and confirmed by the regulator's press office in an email. Uruguay's financial system regulator is aware of the U.S. sanctions, the bank added.
The U.S. Treasury department on July 27 sanctioned Zerpa and 12 other Venezuelan nationals for allegedly undermining democracy in the South American oil producing nation. The listing bans U.S. "persons" from dealing with them and freezes all of their assets subject to U.S. jurisdiction.
The sanctions have prompted some Wall Street bankers to keep their distance from Zerpa, who engineered some of the oil-for-cash deals with China that are critical to the survival of Petroleos de Venezuela SA.
Click here for more on Wall Street reaction to the sanctions
The websites of Banco Bandes Uruguay, a wholly owned unit of state-run development bank Banco de Desarrollo Economico y Social de Venezuela, and Integracion also name Zerpa as chairman. Bandes Uruguay owns 77.4 percent of the pension fund company.
Before it's here, it's on the Bloomberg Terminal.
LEARN MORE