Samsung Heir Says First Meeting With Park Geun-hye Lasted Minutes
By
Lee says key meeting with president lasted less than 5 minutes

49-year-old takes stand for first time in bribery case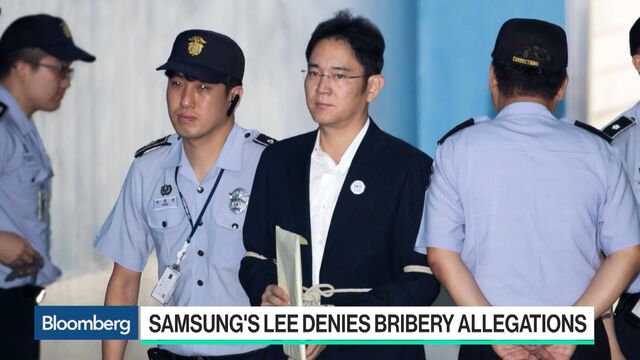 Jay Y. Lee, vice chairman of Samsung Electronics Co., rejected allegations that he paid bribes to a friend of South Korea's former president to secure support for a key merger.
Testifying for the first time in his graft trial, the 49-year-old said a 2014 meeting with then-President Park Geun-hye lasted less than five minutes while a pow-wow the next year didn't discuss Samsung's corporate restructuring.
The billionaire heir to South Korea's biggest company has been in detention since February and is the highest-profile business figure drawn into a scandal that led to the removal of Park. Prosecutors have zeroed in on meetings between Lee and the former South Korean leader, alleging they colluded to get a state-backed pension fund to support a merger of Samsung affiliates in return for financial favors.

Among the allegations is that Samsung provided an $800,000 horse and financial support for the daughter of Park confidante Choi Soon-sil at the former president's behest. On Wednesday, former Samsung Electronics CEO Choi Gee-sung told the court he'd only informed Lee in the summer of 2016 about that contribution, and that Lee would have stopped it had he known.
"I was told everything was going well so I thought it was," Lee said on Wednesday when asked why he didn't know Samsung's funding focused on Choi Soon-sil's daughter. "I'm still not familiar with details. And I've been catching up a lot through this trial."
In his testimony, Lee said he wasn't a close watcher of the company's funding for equestrian sports and that Park had rebuked him for Samsung's level of support for horse-riding. Lee said he didn't discuss donations to foundations linked to Choi and that the former president accused him of having political ambitions.
Lee has been the de facto leader of Samsung since 2014, when his father was hospitalized after a heart attack. In 2015, the conglomerate proposed a merger between Cheil Industries Inc. and Samsung C&T Corp., a deal that would strengthen the heir's grip on the empire.
The merger was opposed by investor Paul Elliott Singer and was only approved after gaining the backing of the government-run National Pension Service.
Read more: A Corruption Scandal, a Political Firestorm—and a Record Profit
Prosecutors allege Lee paid the bribes to get the NPS to support the deal. Samsung and Lee have denied the charges, with the company contending the merger was only intended to enhance the competitiveness of its affiliates, and that donations to foundations associated with Park's friend were regular contributions to a public cause. 
Lee said in court on Wednesday that he told the NPS in a 2015 meeting that the merger wasn't intended to benefit "the next generation" and that he reconsidered the plan after learning of Elliott's opposition.
While the 2014 meeting lasted just a few minutes, Lee said he also met with Park in 2015 and 2016. Prosecutors say the pair first colluded in the 2014 meeting.
Since taking a more active role in the company, Jay Y. Lee has sold off some units in the Samsung conglomerate, while the electronics division just posted record earnings thanks to surging semiconductor prices. In Lee's absence, the company has released the Galaxy S8 to glowing reviews, helping it recover from the recall of the fire-prone Note 7. It's also boosting investment in chips to meet demand from rivals including Apple Inc.
What's Behind the Samsung Bribery Allegations: QuickTake Q&A
The younger Lee is scheduled to be released in late August unless he's convicted and receives a prison sentence. The court plans to hold its final hearing next week. Park, who has been detained on charges of corruption and abuse of power, denied wrongdoing in a separate trial. Lee last month refused to testify at the former president's hearings, arguing that doing so risked affecting his own corruption trial.
Before it's here, it's on the Bloomberg Terminal.
LEARN MORE