The Oil Market's Hidden Signals Show U.S. Producers Are Hedging Again
By , , and
BNP Paribas, PVM see producer hedging as prices near $50

Shale companies not backing away from large output targets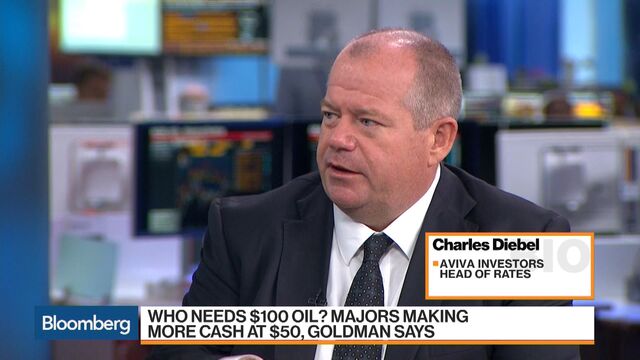 Look under the hood of the oil market and one thing becomes apparent -- shale producers seem to be hedging again.
Demand for the contracts that producers use to guarantee price levels soared after 2018 West Texas Intermediate crude returned to $50 a barrel. At the same time a raft of trades were reported to U.S. regulators last week that showed some producers hedging at levels as low as $45 a barrel, according to data compiled by Bloomberg.
"We've witnessed a lot of producer interest as WTI moved towards $50 a barrel," says Harry Tchilinguirian, head of commodity-markets strategy at BNP Paribas SA. A flatter oil futures curve and surging demand for put options are indicators of recent producer activity, he added.

After OPEC and its allies agreed to cut production late last year, U.S. producers hedged in droves, turning the oil market's structure upside down as they sold later contracts to lock in their output. Banks including Societe Generale SA said that this activity had stopped when prices entered a bear market in June. Now, producers are at it once again, adding to the specter of a rising supply outlook in the market.
Demand for put options that producers use to lock in prices has jumped over the last two weeks. An indicator known as the skew that compares put option and call option prices has shot up for December 2018 Brent and WTI contracts, indicating that producers are guaranteeing sales for next year. There was also a 32 percent increase in the number of West Texas Intermediate contracts for June 2018 last month, PVM Oil Associates analyst Stephen Brennock wrote in an emailed report Wednesday.
Several large trades were reported to U.S. regulators last week that were also typical of producer hedging, according to data compiled by Bloomberg. Among those, one saw 4 million barrels of supply locked in at $45 a barrel.
Some of the largest U.S. shale companies have said they're not backing away from large production targets for 2017. Pioneer Natural Resources Co. said on Tuesday that it has now hedged the equivalent of 97 thousand barrels a day at $48.71 a barrel for next year, $1.40 lower per barrel than the 46 thousand barrels a day at $50.11 in May. The company said Wednesday that it will add to its 2018 crude hedges in the coming months.
Booming U.S. shale output has left several major banks with bearish outlooks for 2018. JPMorgan recently cut its forecast for next year to $45 a barrel and said the risks to that estimate being lowered are increasing. Morgan Stanley cut its first-half 2018 outlook last month, saying that rig counts, which were on a record run of increases until late-June, may need to fall by around 150 before supply and demand can balance.
"The improving price backdrop has provided U.S. producers with a timely opportunity to lock in selling prices for future production that will help safeguard the U.S. shale boom," PVM's Brennock wrote. As a result, WTI "is unlikely to venture too far north from the $50/bbl level".
— With assistance by Javier Blas
Before it's here, it's on the Bloomberg Terminal.
LEARN MORE