Moldova Declares Russian Deputy Premier Persona Non Grata
By
Moldovan government declares Rogozin as persona non grata

Other Russian officials were banned from Moldova in May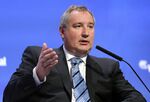 Moldova's government declared Russian Deputy Prime Minister Dimitry Rogozin persona non grata for what Prime Minister Pavel Filip said were "offensive statements" about its citizens.
Rogozin made "denigrating statements" about Moldova and its authorities in recent interviews, ruling out bilateral relations "based on mutual respect," Moldovan Foreign Affairs Minister Andrei Galbur said in a televised speech from the cabinet's meeting on Wednesday.
The move comes less than three months after the Chisinau-based cabinet banned five other Russian diplomats for alleged interference in Moldova's internal affairs. Rogozin is one of the most senior Russian officials affected by a 2014 visa ban issued by the European Union after Russia annexed Crimea from Ukraine.
Moldova, Europe's poorest state, has been caught in a power struggle between the pro-European government, which seeks closer ties with the EU, and its pro-Russian President Igor Dodon.
Before it's here, it's on the Bloomberg Terminal.
LEARN MORE