Five Things You Need to Know to Start Your Day
Get caught up on what's moving markets in Asia.
By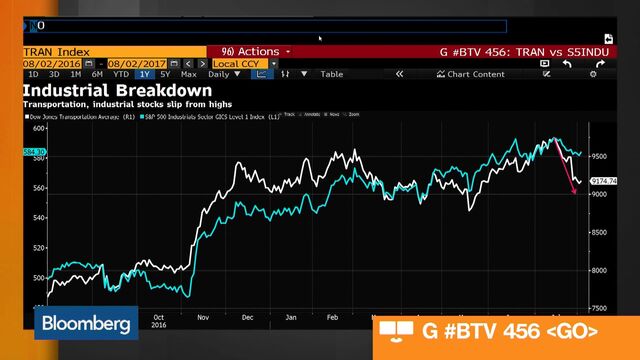 Want to receive this post in your inbox every morning? Sign up here.
Greenback can't stop seeing red, U.S. shale producers start hedging again, and another round number for the Dow. Here are some of the things people in markets are talking about.
Dollar Doldrums
The Bloomberg Dollar Spot Index touched a fresh 15-month low Wednesday as Federal Reserve officials struck a relatively cautious tone and the euro went on a tear, outperforming all its G10 peers. The euro is now on the verge of breaking above $1.20 versus the dollar -- a level it hasn't cracked since the start of 2015 – as support for the common currency has likewise surged to its highest level in more than a decade. The greenback's prolonged stretch seeing red is causing investors across different asset classes to rewrite their trading theses.
Lock It In
West Texas Intermediate futures swung from losses to close up 0.9 percent as traders digested the weekly report from the Energy Information Administration. Data showed U.S. output rose while crude inventories fell by less than analysts expected; however, demand for gasoline was immense, fueling a sizeable decline in product stockpiles. U.S. shale producers appear to be stepping up their hedging activity once again, locking in future output following the rally in crude over the past six weeks. With Brent prices above $50 per barrel, integrated European oil companies are still able to generate tons of cash. There's also some sad news for the energy industry: Rick George, the former Suncor chief executive who helped pioneer the development of Canada's oil sands, died at the age of 67.
22K
The Dow Jones Industrial Average broke above 22,000 for the first time ever Wednesday, buoyed by Apple Inc.'s impressive quarterly results released after the prior day's close. The S&P 500 Index and Nasdaq Composite were virtually flat on the session. After the close, Tesla Inc. reported that it hadn't burned through as much cash as analysts thought in the second quarter, which helped send the stock more than 6 percent higher in the after-hours session. Ahead of the open, markets in the Asia-Pacific region are mixed, with Nikkei 225 and S&P/ASX 200 futures trading marginally to the downside and upside, respectively.
Sanctions, Some 'Flawed'
U.S. President Donald Trump is considering additional sanctions against Venezuela after freezing the assets of President Nicolas Maduro, who recently showed his intolerance for dissent by arresting opposition politicians. One major option includes curtailing crude imports from the petrostate. On Wednesday, Trump signed a bill imposing sanctions on Russia as punishment for meddling in the U.S. presidential election, as well as others on Iran and North Korea, while calling the Congressional legislation "significantly flawed." On North Korea, which has claimed the ability to strike any part of the U.S. with its intercontinental ballistic missiles, some experts fear it may be too late for sanctions to effectively deter the regime's military ambitions.
Coming Up...
It's another big day for data. The July services purchasing managers' index readings for Japan, China, and India, as well as Australia's June trade balance – forecast to slim to a surplus of $1.8 billion – headline the economic calendar in the Asia-Pacific region. The marquee event on the calendar globally, however, promises to be Super Thursday for the Bank of England, whose decision is due out at 8 p.m. Tokyo time. Though three policymakers wanted to raise rates in June, investors have been trimming bets on an interest rate increase before the year is out over the past few weeks.
What we've been reading
This is what caught our eye over the last 24 hours.
Before it's here, it's on the Bloomberg Terminal.
LEARN MORE