Fitbit Tops Sales Estimates on Renewed Demand for Fitness Bands
By
New smartwatch offering to debut in time for holiday season

Company sold 3.4 million devices in the second quarter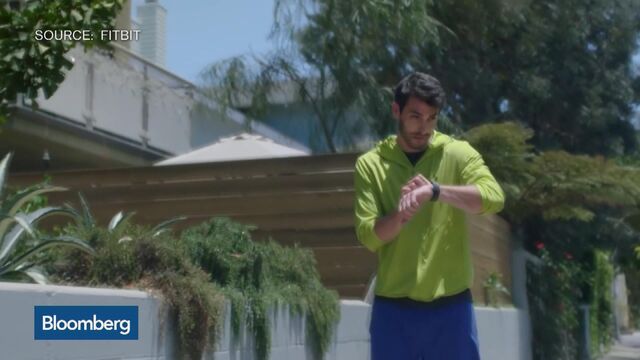 Fitbit Inc. topped analysts' revenue projections on better-than-expected demand for fitness bands, and announced its anticipated smartwatch will debut in time for the holiday shopping season.
Second-quarter sales were $353.3 million, a decline of 40 percent, but higher than analysts' average estimate of $341.2 million. Fitbit reported a loss, excluding certain costs, of 8 cents a share, compared with a profit of 12 cents a year earlier. Analysts projected an adjusted loss of 15 cents a share, according to data compiled by Bloomberg.
The company's slice of the wearable-device market declined to 12 percent in the first quarter -- about half its share a year earlier -- as Fitbit struggled to compete against less-expensive products from rivals such as Xiaomi Corp. and more advanced devices such as the Apple Watch. The company said it sold 3.4 million devices in the period ended July 1, compared with 5.7 million in the quarter a year earlier. Chief Executive Officer James Park said the new smartwatch will drive second-half sales.
"Everything is riding on the smartwatch," Joe Wittine, an analyst at Longbow Research, said before the results were released. "It can't get here soon enough because it's a large market and growing substantially. The longer Fitbit sits out this market, the more the market blows by them."
Fitbit shares gained 3.6 percent at 5 p.m. after closing Wednesday at $5.07 in New York. The stock has plummeted 90 percent since its high of $51.64 two years ago.
In addition to rolling out the smartwatch, Park is trying to transform Fitbit into a digital-health company that relies less on consumers and more on corporate wellness. The company forecast sales in the current period of $380 million to $400 million.
Fitbit also raised the low end of its full-year revenue outlook to $1.55 billion to $1.7 billion and slightly narrowed the guidance for its full-year adjusted loss per share to 40 cents to 22 cents.
"Consumer demand in the second quarter was better than anticipated, enabling Fitbit to reduce channel inventory and generate better sales," Park said in a statement.
— With assistance by Selina Wang
Before it's here, it's on the Bloomberg Terminal.
LEARN MORE