Adidas, MLS Extend U.S. Apparel Deal Amid Red-Hot Soccer Growth
By
Apparel partnership is Major League Soccer's largest ever

Company is betting the sport will continue to grow in the U.S.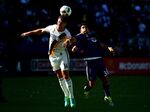 Adidas AG and Major League Soccer will extend their existing apparel agreement for six years, representing the sporting-goods producer's biggest-ever investment in U.S. soccer.
The deal comes amid rapid growth for the 22-team MLS, which set records last season for attendance, TV ratings and merchandise sales and plans to add six more teams by 2024. The league's expansion fee has jumped to $150 million from $10 million a decade ago. One of its newest teams, Atlanta United FC, is averaging more than 46,000 fans per home game.
"Adidas is the global leader for our sport, and this deal helps solidify our position as the leading soccer property in North America," MLS Commissioner Don Garber said in a telephone interview from Chicago, where the league's All-Star Game will be held Wednesday. It will be the league's largest commercial partnership ever, he said.
Financial terms of the deal weren't immediately available.
Adidas is seeking to ride the wave as the sport also makes inroads at the community level. The athletics-goods producer will remain the official supplier of MLS youth academies, development leagues and youth-affiliated clubs, which means the partnership covers over 85,000 soccer players. This early access is unmatched by other major sports leagues, according to Adidas North America President Mark King.
"We have an opportunity to be a part of all those levels," King said in a phone interview. "Really no other league has that, from the top of the pyramid all the way down to 6-year-olds."
Adidas outfitted three of the original 10 MLS franchises at the league's inception in 1996 and became the league-wide apparel partner in 2004. This will be the second time the partnership has been extended, with the first coming in 2010.
The company's shares jumped last week after the the German shoe and apparel giant increased revenue and profit forecasts, part of an 18-month resurgence that has it clawing back market share it had lost to rival Nike Inc. King said soccer is by far its most important team sport in North America for the company.
"As these generations grow up, the soccer fan base will get bigger and bigger," King said.
Before it's here, it's on the Bloomberg Terminal.
LEARN MORE