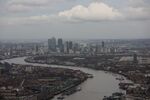 The City of London is only now getting the debate on Brexit that it deserves.
A year on from the referendum, the government is asking for an analysis of EU nationals' contributions to the economy, the Bank of England is assessing the finance industry's readiness for a hard Brexit, and banks are starting to disclose the cost of moving staff and operations across the Channel.

The latest attempt to put a number on Brexit comes from consultancy Oliver Wyman. It reckons corporate and investment banks would need to find as much as $50 billion of extra capital to support new EU entities if U.K. firms were cut off from freely selling their services into the bloc. Operating costs could rise by $1 billion as a result of duplicating processes in other jurisdictions. These numbers come a day after HSBC estimated moving 1,000 staff to Paris would cost $300 million.
To put this into perspective, $50 billion is not far off the $40 billion in equity capital raised over the past 12 months by UniCredit SpA, Deutsche Bank AG, Banco Santander SA, Credit Suisse Group AG and Allied Irish Banks Plc, according to Bloomberg data. The extra $1 billion of operating expenses is similar to the cost of the U.K.'s ring-fencing rules designed to protect taxpayers. This comes at a time when banks are still hobbled by weak returns on equity, as the latest earnings releases testify.

Big Brexit numbers have been bandied about before, to be sure, and they sometimes do more harm than good. Trying to put a number on the business and jobs at risk from a relocation of euro clearing, for example, produced a bewildering and totally unhelpful bunch of forecasts. The London Stock Exchange's predictions went from dire to apocalyptic, swelling from $77 billion to $100 billion in increased costs for banks and from 100,000 to 232,000 London jobs at risk. The scarier the headlines get, the bigger the risk of eyes glazing over.
But that's why industry-wide estimates should be accompanied by disclosures from individual banks, as Gadfly has argued before. Shareholders need to know that lenders are striking the right balance between doing too little, which risks rattling clients looking for business certainty, and doing too much, which risks disrupting staff and operations. A worst-case scenario might not come to pass, but it would help set expectations at a company level. It might also actually inform the political debate on whether the costs of the current negotiating strategy are worth it. More banks should follow HSBC's example.

There's nothing inevitable about Brexit, and a lot has changed in politics since the 2016 vote. Now might actually be the time to analyze and estimate the cost to the financial industry while keeping hyperbole to a minimum. Who knows, bankers might teach politicians a thing or two on how to extend and pretend.
Before it's here, it's on the Bloomberg Terminal.
LEARN MORE