Sprint CEO Says Deal Decision Is Coming in `Near Future'
By
Profit beats estimates as cost cuts outweigh subscriber losses

Sprint is alone among top 4 providers in losing customers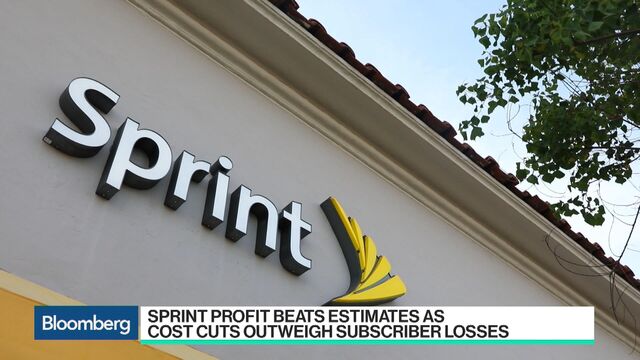 Sprint Corp. Chief Executive Officer Marcelo Claure said a decision on possible mergers is close at hand, potentially setting a new course for a company that has slashed costs amid mounting subscriber losses.

The company has had positive merger discussions with T-Mobile US Inc. and Charter Communications Inc., Claure said Tuesday on a conference call with reporters. "I believe the interest is high from both parties," he said.
Claure's comments helped lift Sprint shares as much as 12 percent. The stock had already risen after Sprint reported quarterly net income that beat even the best analyst estimate, providing evidence that lower network spending and other expense reductions are helping the company stabilize itself ahead of potential deals.
Chairman Masayoshi Son has set his sights on a possible merger with Charter, the second-largest cable provider in the U.S. Son, who is also chairman of Sprint parent SoftBank Group Corp., has secured about $65 billion in financing for a possible offer by the Japanese company for Charter, according to people familiar with the plan.
The most recent plan by Masayoshi Son would have SoftBank, which owns 84 percent of Sprint, acquire the rest of the carrier for a premium, then buy Charter for cash and stock, the people said.
"Organically, Sprint still seems to be slowly gaining traction," JPMorgan Chase &Co. analyst Philip Cusick said in a note to clients. He cited lower costs of equipment and general expenses in aiding the "solid" results. "While shares have struggled recently as M&A rumors swirled, last night's report that SoftBank could bid for the rest of Sprint before merging with Charter could drive a rebound today."
Claure may be optimistic, but Charter has publicly said it's not interested in acquiring Sprint, and talks with T-Mobile were on hold in July while Sprint was in exclusive talks on a reselling deal with cable partners. T-Mobile didn't immediately reply to a request for comment.
While Sprint has booked a decade of losses and piled up about $41 billion in debt, the company also has valuable assets including the largest holdings of airwaves and an estimated $34 billion in tax credits that could benefit a merger partner.
Sprint rose to as high as $8.90 in New York trading, the highest intraday price since November. The shares had fallen 5.2 percent this year through Monday.
On Tuesday, Sprint reported a surprising loss last quarter of 39,000 customers, even as the company gave away a full year of unlimited data to new subscribers. The offer accounted for just 1 percent of new customers, the CEO said. Analysts had forecast an increase of 127,452. The shortfall comes after all three of Sprint's larger rivals added users in the latest period, underscoring the challenges in the business and the pressure on SoftBank. to find financial salvation through a merger.

Sprint reported net income of $206 million, up from a loss of $302 million a year earlier, according to a statement. Analysts expected a loss of $79.9 million.
Sprint slightly raised the lower end of its forecast for full-year adjusted earnings before taxes, interest, depreciation and amortization to between $10.8 billion and $11.2 billion from a prior range of $10.7 billion to $11.2 billion.
Craig Moffett, an analyst with MoffettNathanson LLC, has warned investors over the past three years that Sprint has been patching holes in its finances in order to buy enough time to find a deal partner. The risks of that strategy are starting to be exposed, Moffett wrote in a note Tuesday.
"Like an unsold house that has sat too long on the market, an asset that has been shopped too often without success takes on an air of taint," Moffett wrote.
— With assistance by Gerry Smith
Before it's here, it's on the Bloomberg Terminal.
LEARN MORE