South Africa Court to Give SARB, Protector Decision by Aug. 18
By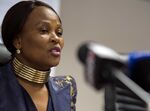 South Africa's High Court will decide whether the nation's anti-graft ombudsman must set aside an instruction that lawmakers change the constitution to amend the central bank's mandate by Aug. 18, a judge said.
In a June 19 report, Public Protector Busisiwe Mkhwebane instructed the legislature to start a process to amend the nation's constitution to make the Reserve Bank focus on the "socioeconomic well-being of the citizens" rather than inflation. Her comments caused the rand to slide as the change was seen by investors as a threat to the lender's independence.
Mkhwebane can't determine what comes before Parliament and failed to understand the central bank's role, David Unterhalter, counsel for the South African Reserve Bank, told Judge John Raymond Murphy in the High Court Tuesday in the capital, Pretoria. The lender brought the application to set aside the instruction, which the protector didn't oppose. The ruling party and lawmakers condemned her order.
She put the instruction in a report that followed her investigation into an apartheid-era bailout by the regulator of Bankorp, which Barclays Africa Group Ltd.'s ABSA bought in 1992; she instructed the lender to repay 1.12 billion rand ($85 million). ABSA and the National Treasury have also asked the court to review Mkhwebane's report and Parliament has filed an affidavit supporting the Reserve Bank's application.
Before it's here, it's on the Bloomberg Terminal.
LEARN MORE