Rolls-Royce Recovery Picks Up Even as Production Hurdles Remain
By
First-half profit more then doubles, propelling stock higher

East leaves guidance unchanged, citing key challenges ahead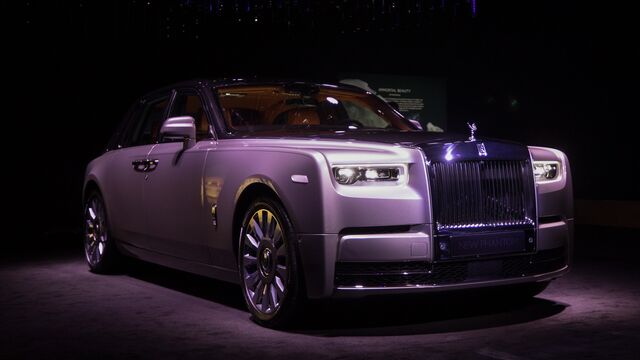 Warren East's reboot of struggling industrial giant Rolls-Royce Holdings Plc gathered pace as the aircraft-engine maker's first-half profit more than doubled, aided by the chief executive's restructuring plan.
At the same time, East left his 12-month outlook for "modest" performance improvements unchanged in guidance Tuesday, warning that the London-based company faces production hurdles in the second half that will make or break its year and indicate whether the recovery has truly taken hold.

Rolls-Royce shares surged 10 percent, the most in a year, wiping out declines Monday when the company reined in expectations for its long-term cash goal. Under East, recruited in 2015 after running semiconductor maker ARM Holdings Plc, the group has cut management posts, reorganized units and begun a strategy review as it repositions to tap the biggest jetliner backlog in history.
"We've made good progress but there's still a lot to do and I'm telling people this is no time for complacency," East said on a conference call. "In particular as we continue to manage the balance of in-service issues in civil aerospace alongside key new product introductions and increased production volumes."
Rolls-Royce stock was trading 9.8 percent higher at 975 pence as of 10:28 a.m. in London, extending gains this year to 47 percent and valuing the company at 17.9 billion pounds ($24 billion).
A350 Improvement
Adjusted pretax profit jumped to 287 million pounds in the first half from 104 million pounds a year earlier as sales advanced 12 percent to 7.57 billion pounds, Rolls said in a statement. Analysts had predicted earnings of 158 million pounds, according to data compiled by Bloomberg.
East's restructuring helped boost profitability, together with increased deliveries of higher-margin engines including Trent 900s for the Airbus SE A380 superjumbo and improved maintenance revenue as the low oil price extends the life of older planes.
The economics of producing the Trent XWB engine for Airbus's newest A350 wide-body have also improved, according to East, with launch pricing "coming to an end." That's a vital development given the company's reliance on the model, which has a production backlog stretching for six years, Jefferies analyst Sandy Morris said.
Rolls said the XWB produced "the biggest loss, but also the biggest improvement." While 85 of the engines were delivered in the half, up from 41 a year earlier, manufacturers tend to produce turbines at a loss and only later turn a profit on in-service repair and overhaul, making cost control vital.
Among the second-half challenges identified by East are final development of new engines to power Airbus's stretched A350-1000 and Boeing Co.'s largest 787-10, as well as the A330neo, which has faced a series of delays. Rolls-Royce is also contending with issues on the 787's baseline Trent 1000 turbine, which has led to the grounding of planes at customers including Thai Airways International Pcl.
The marine business remains a thorn in Rolls's side, with losses widening as the oil price continues to weigh on demand for offshore vessels from the oil and gas industry. More jobs are due to be cut at the division before the year's end, with "no reason for optimism" regarding the outlook, finance chief Stephen Daintith said.
Rolls-Royce shares closed down 4.4 percent Monday after the company guided away from earlier indications that it could reach 1 billion pounds in free cash flow by the end of the decade, instead suggesting that it's aiming to beat a previous high of 781 million pounds set in 2013.
Before it's here, it's on the Bloomberg Terminal.
LEARN MORE