Britain's Biggest Regional Airline Chases 20 Partners After Opening at Heathrow
By and
Flights to London hub from Scotland luring potential partners

Manchester, Birmingham also have alliance potential, CEO says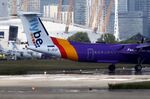 Flybe Group Plc, Britain's biggest regional airline, said it's pursuing 10 to 20 more partnership agreements with major airlines following its introduction of flights to London Heathrow airport in March. The stock rose as much as 6 percent.
The services from Edinburgh and Aberdeen offer bigger carriers the chance to tap Scottish markets by striking code-share deals that let them sell tickets on Exeter, England-based Flybe's planes as if they were their own.
"Airlines flying from Heathrow see us as a unique opportunity to feed their flights," Chief Executive Officer Christine Ourmieres-Widener said in an interview, adding that when Flybe announced the services in December 2016 it had "more requests for code-shares than passengers booked on our flights."
Flybe currently has 11 code-share partners, including Cathay Pacific Airways Ltd., Singapore Airlines Ltd. and Air India Ltd., Gulf giants Emirates and Etihad Airways PJSC, and Virgin Atlantic Airways Ltd., for which it provides vital Scottish links following the end of a feeder deal with Aer Lingus. Ourmieres-Widener said talks are ongoing with at least one U.S. carrier, and that Manchester and Birmingham also offer further code-share prospects.
Shares of Flybe jumped 2.25 pence to 39.75 pence before closing 2.7 percent higher at 38.50 pence in London. That pares their decline this year to 12 percent and values the company at 83.4 million pounds ($110 million).
Turboprop Service
The Heathrow takeoff and landing positions are so-called "remedy slots" originally used by BMI and surrendered on the instruction of antitrust regulators after its takeover by British Airways. They were initially acquired by Virgin for its Aer Lingus-run Little Red domestic shuttles before that operation was dropped as uneconomic in 2015. Flybe didn't have to buy them and pays charges based on the smaller Bombardier Inc. Q400 turboprops it deploys.
Up to 20 percent of passengers on the Scottish routes are transferring on and off Virgin Atlantic planes, Ourmieres-Widener said. Outside of Heathrow, code-share partners include Air India at Birmingham, serving New Delhi, and Singapore Air at Manchester, Paris Charles de Gaulle and Düsseldorf for flights to Singapore, Auckland, Bangkok, Houston, Sydney and Manila.
At the other end of the scale Flybe would like to develop more franchise deals with smaller carriers, the CEO said. Among current allies, Blue Islands operates flights to the Channel Islands of Jersey and Guernsey in Flybe-branded planes, Stobart Air does likewise from London Southend, and Eastern Airlines recently took over services to Shetland, Orkney and Stornoway in Scotland.
Capacity Cuts
Flybe on Tuesday revealed its summer 2018 timetable, roughly extending a 7 percent capacity reduction being introduced this winter. The carrier is cutting seating in order to focus on its best-performing routes, a strategy that is helping to lift revenue and average fares, it said July 26, sending the stock up 11 percent.
According to the plan Flybe will shrink its fleet from 85 planes to 70, focusing on the 78-seat Q400s and a smaller number of 88-seat Embraer SA E175 jets, while returning 118-berth E195s after concluding that they're too big for its markets.
Flybe closed at 341.25 pence on its first day of trading after a December 2010 initial public offering, valuing the business at 248.6 million pounds. The plan at the time was to expand across mainland Europe, consolidating other regional carriers. That strategy was later ditched in favor of a less-expansive focus on the U.K., and Ourmieres-Widener said new accords involving intra-continental flying won't be contemplated unless they offer "a really perfect opportunity."
Before it's here, it's on the Bloomberg Terminal.
LEARN MORE