What to Watch in Buffett-Backed Home Capital's Earnings
By
New Chief Bissada to address analysts on first day in post

Analysts looking for updates on strategy, deposit base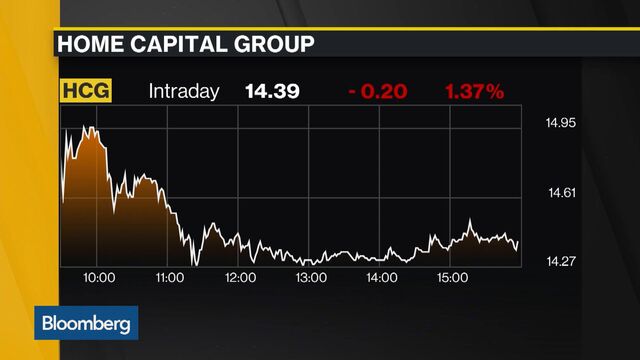 Home Capital Group Inc. reports second-quarter results after markets close on Wednesday, with a conference call on Thursday. It will be the first earnings report since U.S. investor Warren Buffett bailed out the company in June, and the first chance for new Chief Executive Officer Yousry Bissada to lay out the company's plans. Here's what to look for:
A strategy update. Bissada's first day on the job at what was once Canada's largest alternative mortgage lender will be the day of the conference call. Bissada has said he would recruit a chief financial officer and that it would take about three months to come up with a plan for the company. Director Alan Hibben mentioned in June the possibility of new branding. While analysts aren't expecting a full-fledged assessment of Home Capital's woes and how to address them, they'll be looking for any hints, forecasts, and warnings. 
 
Questions that remain, according to National Bank analyst Jaeme Gloyn, include identifying the priorities for the new CEO and if there's been progress on rebuilding the mortgage and client base after a run on deposits this year. "A new strategic plan is what will form our view on HCG and, in the absence of such plan, it's likely our mid- to long-term view will remain unclear," Laurentian Bank Securities analyst Marc Charbin said in a July 21 note to clients. He rates the stock a hold, with a price target of C$17. He forecasts a loss of C$1.82 a share on the quarter.
Details on Buffett's involvement. The stock has lost its Buffett bounce. The shares soared 27 percent to C$19 on June 22 after Berkshire Hathaway Inc. announced it would provide a C$2 billion ($1.6 billion) credit line and buy up to 38 percent of the company for about C$10 a share. The stock has slumped to less than C$14 since then, an indication that investors are skeptical that Buffett's cash will single-handedly restore the firm. Shareholders will vote on the second tranche of Buffett's proposed investment on Sept. 12. At the June annual meeting, some investors voiced criticism that Buffett was able to grab the shares at such a deep discount.

Forecasts for mortgage growth amid a cooling housing market. Since March, home prices in Toronto, Canada's largest city and biggest real estate hub, are down about 17 percent. Prices were driven lower by regulatory changes to mortgages, insurance, and borrower qualification, while a central bank rate hike last month boosted mortgage costs. "Declining housing activity not only poses risks to growth, but also increases credit concerns if home prices decline materially," National Bank's Gloyn said in his note. Home sales in eight of Ontario's 10 largest regions by dollar volume declined from last year, he added. First National Financial Corp., another alternative lender, reported that second-quarter originations fell 14 percent from the prior year, with single-family residential loans -- a barometer for the health of the mortgage industry -- down 21 percent. It was a bigger decline than analysts expected.
Updates on liquidity. As of July 25, the Toronto-based lender said it had C$3.59 billion of available liquidity and credit capacity, including the Berkshire line, up from C$1.5 billion as of June 28. Look for an update on guaranteed investment certificate balances, which stood at C$12.3 billion as of July 14, and high-interest savings account deposits, disclosed at C$104 million for the same period. These are the pots of cash Home Capital dips into to fund mortgages.
Before it's here, it's on the Bloomberg Terminal.
LEARN MORE