markets
Bank of England Urged to Raise Rates Before Brexit
By
Institute says growth likely to recover in second half of 2017

A 'modest rate hike' would be 'sensible,' forecaster says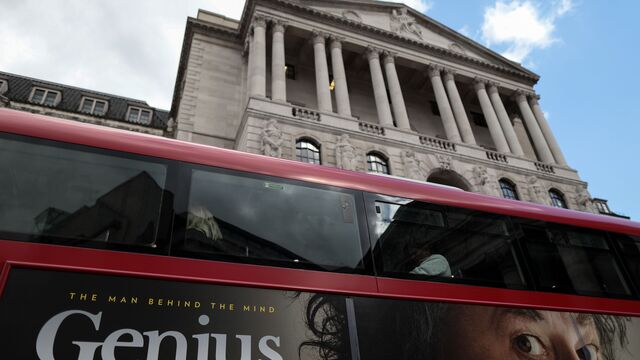 The Bank of England shouldn't wait until Brexit has happened to raise rates, according to the National Institute of Economic and Social Research.
While the central bank is likely to keep policy unchanged when it announces its latest decision and forecasts on Thursday, it will probably raise the benchmark rate by 25 basis points in the first quarter of 2018, the think tank said on Wednesday. That's sooner than the institute had forecast in May, when it said the BOE would likely wait until 2019 to remove some of the stimulus it introduced in the wake of the U.K.'s decision to leave the European Union last year.
"A modest rate hike which still leaves monetary policy hugely accommodative is sensible," said Amit Kara, head of U.K. macroeconomic forecasting at Niesr. "Given that the bank had these emergency measures in place and the economy has outperformed," then "there is reason to withdraw some of that stimulus."
Growth is likely to strengthen in the second half of this year into next and inflation will peak at 3 percent in the last quarter of the year, Niesr said. Growth will likely be 1.7 percent this year and 1.9 percent in 2018, unchanged from its previous estimates.
Surveys have showed a mixed economic picture, with manufacturing growth accelerating in July, bolstered by a strong jump in export orders. PMI figures published Wednesday, however, showed construction growing at its slowest pace in 11 months.
BOE Forecasts
Niesr revised down its inflation forecasts due to weaker-than-expected official statistics, saying price growth will ease back to its 2 percent target in the final quarter of 2019. It also predicted a return to "meaningful" productivity growth from 2018 onward.
The BOE will update its own economic estimates Thursday, and economists say the central bank will probably revise down growth forecasts for the next two years and keep the inflation outlook unchanged. The BOE had projected inflation at 2.8 percent this year and 2.4 percent in 2018.
A separate report on Wednesday by the British Retail Consortium showed that food-price inflation eased in July as the effect of the weaker currency waned. Overall shop prices fell.
Still, Niesr said that given that inflation will be above the central bank's 2 percent target, productivity will recover and quarterly growth will return "close to potential," the BOE should remove the stimulus put in place after the Brexit vote -- though that doesn't necessarily mean an immediate change or sequence of tightening.
"Nobody here is talking about a rapid normalization of interest rates, we're talking about some steps back to normality," Niesr Director Jagjit Chadha said.
'Bit Tricky'
Three out of eight policy makers voted to tighten policy in June, and Governor Mark Carney and Chief Economist Andy Haldane said shortly afterward that they may consider a rate increase soon. Since then, data has shown inflation cooling slightly and the economy slowing more than the bank expected in the first half of the year, leaving prospects for a move diminished.
Deputy Governor Ben Broadbent said last month that he's not ready to vote for higher interest rates, even though he sees pressures to do so building up, and that "it is a bit tricky at the moment to make a decision."
The BOE needs to focus the debate, Niesr said.
"To move back" from the extraordinary monetary accommodation "is going to need care, and careful guidance and explanation," Chadha said. "That doesn't mean it has to happen quickly, it just needs to be better explained."
(
Updates with PMI data on manufacturing and construction in fifth paragraph.
)
Before it's here, it's on the Bloomberg Terminal.
LEARN MORE