BOE Battles Its Own Wage-Growth Headache as Workers Walk Out
By
Employees are protesting outside headquarters for three days

Union says BOE needs to show good will and listen to members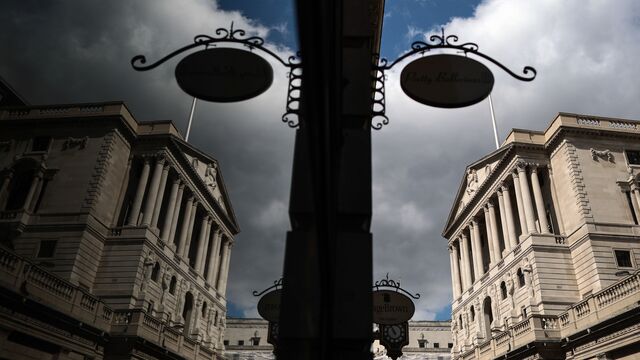 The Bank of England says it's on the lookout for faster wage growth in the U.K. economy, but it doesn't see it in its own building.
Follow @Brexit for all the latest news, and sign up to our daily Brexit Bulletin newsletter.
From today until Thursday, Unite is staging a strike over "fair pay" and the bank's "unwillingness" to discuss more compensation for members, the U.K.'s biggest trade union said. The BOE has issued a 1 percent pay raise to workers, in line with the government's ceiling on public-sector pay increases but well below the June inflation rate of 2.6 percent. 

Workers rallying outside the BOE building in London at 8 a.m. Tuesday morning to protest the offer, included those from security and maintenance -- key departments for the world's second-largest store of gold. Strikers wore masks of Governor Mark Carney and were joined in support by John McDonnell, Shadow Chancellor of the opposition Labour Party.
The fall in the pound since the EU Referendum vote in 2016 has caused inflation to run faster than wage growth, putting pressure on household incomes. Officials have said the pace of pay increases is a key factor in their policy deliberations.
On Thursday the central bank's Monetary Policy Committee will meet to decide whether to hike interest rates and will also publish updated forecasts. Workers will continue to strike outside the Bank's headquarters as the panel votes.
The irony of a strike over pay taking place on the BOE's doorstep has not been lost on workers. "It is very ironic. This is something that utterly brings out the anger in our members," said Mercedes Sanchez, a Unite regional officer.
"Inflation affects us all, no matter how much you earn. And it's only fair that we have a say on how the money is distributed," she said. "British workers have been struggling for quite a long time."
In a statement, a spokesperson for the bank said it "has plans in place so that all essential business will continue to operate as normal" and that it is willing to continue talks with the striking workers at any time.
Before it's here, it's on the Bloomberg Terminal.
LEARN MORE