Balance of Power: What Scaramucci's Ouster Means for Team Trump
By and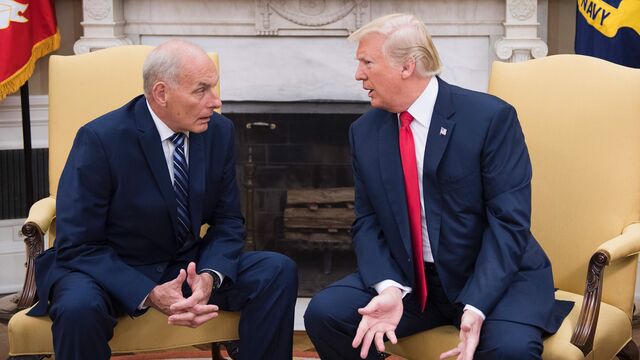 Blink, and you might have missed it.
Less than a week ago Anthony Scaramucci was boasting to the New Yorker that he'd purge his entire White House team to crack down on leaking. But yesterday, it was Scaramucci himself who was fired as communications director -- after barely a week on the job.
With Scaramucci's ouster, new Chief of Staff John Kelly sent a strong message to both his White House team and outside observers that he's in charge now.
Republicans are desperately hoping that Kelly -- a retired four-star Marine Corps general -- will bring some order to a White House that's seen scandals and infighting overshadow any policy initiatives. And there were some promising early signs, as Kelly focused a Cabinet meeting on plans to overhaul the tax code and other legacy-defining challenges on his first day in the job.
But the precedents are inauspicious. The last general to serve as a president's chief of staff was Alexander Haig. He took the job in 1973 and oversaw the final unraveling of the Nixon administration.

Sign up to receive the Balance of Power newsletter in your inbox, and follow Bloomberg Politics on Twitter and Facebook for more.
Global Headlines
Maduro agitators detained | Venezuela's most high-profile opposition figures were seized from their homes by security forces, in what appeared to be a crackdown on officials challenging President Nicolas Maduro. Leopoldo Lopez was taken at gunpoint, his wife said, just weeks after he had been released from a military prison. The move comes a day after the Trump administration, in an unusual step, imposed sanctions directly on Maduro.
UN funds firms on Syria blacklist | A United Nations report showed that it paid at least $18 million last year to firms with links to Syrian President Bashar al-Assad, some run by cronies on U.S. and European Union blacklists. While the UN isn't bound by sanctions imposed by member states, the revelation in the 739-page report will fuel criticism it has failed on Syria, where more than six years of war has left about half a million dead.
U.S. hunkers down in Afghanistan | A U.S. government report set out the worsening situation almost 16 years after American forces arrived, with a jump in terror attacks as militants control more territory. That's leaving U.S. officials stuck in Kabul and unable to oversee the billions spent on reconstruction, further hindering efforts by Trump's administration to define a vision for the country. 
Chinese money in Malaysia | China is pouring money into Malaysia, which could help Prime Minister Najib Razak woo eventual voters. President Xi Jinping has described ties with Najib as the best ever and sources say he plans a state visit. But the funds come at a cost: The opposition accuses Najib of cutting out local companies and taking a soft approach to Beijing's military buildup in the disputed parts of the South China Sea.

The Canada-Mexico alliance? | Trump's threats to leave Nafta -- which he's called the worst deal in history -- will test the relationship between Canada and Mexico. His ability to dictate new terms will hinge in part on solidarity among his two partners. The two nations could team up to defend core tenets of the pact -- if they can resist the temptation to sell each other out. 
Brexit infighting | U.K. Prime Minister Theresa May is keeping her head down as her cabinet fights over the terms of Brexit. Trade Secretary Liam Fox is resisting Chancellor Philip Hammond's push to allow free movement for EU nationals for up to three years after Britain leaves. The prime minister hasn't taken a position, in part to avoid alienating any more of her lawmakers before a potentially treacherous party conference in October. 
And finally... Saudi Arabia announced plans to turn hundreds of miles of Red Sea coastline into a global tourism destination, and has promised laws "on par with international standards" to make it happen. Could that be code for relaxing the country's strict dress code or curbs on men and women mixing? By 2022, you could be sucking a mojito on a Saudi beach -- or sitting in Riyadh discussing how the kingdom's plan to wean the economy off oil is still stuck in first gear.
— With assistance by Daniel Ten Kate
Before it's here, it's on the Bloomberg Terminal.
LEARN MORE