markets
Aussie Dollar Turns Into a Villain for Central Bank
By
Lowe warns that further appreciation could subdue CPI, growth

Traders appear more concerned about U.S. government policy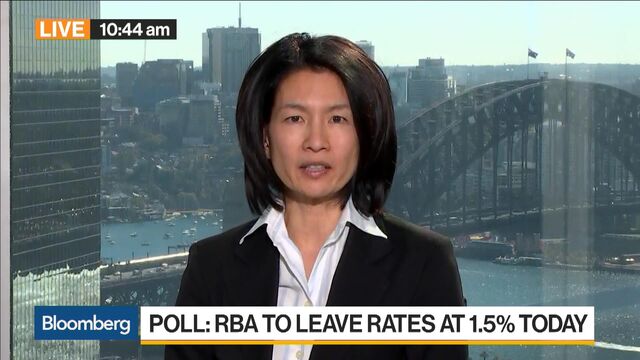 Start your day with what's moving markets in Asia. Sign up here to receive our newsletter.
Australia's dollar is now a key stumbling block to the economy emerging as a competitive services-driven exporter, prompting Reserve Bank Governor Philip Lowe to warn on the implications of extending its surge.
The markets' response? A collective yawn and a move higher. Traders made it clear that Aussie policy makers will not be calling the shots. It will be decided by what the Trump administration can secure by way of a legislative economic agenda and whether the Federal Reserve can persuade them it will tighten policy as planned. In other words, the RBA's fortunes are hitched to those of the White House.
Read more about Tuesday's rate decision here
The central bank kept its benchmark rate at 1.5 percent Tuesday, as expected. In his accompanying statement, Lowe said while the bank was sticking to its quarterly forecasts -- which will be updated in three days' time -- he also made it clear that further Aussie ascension will slow the track of economic growth and inflation. That would mean rates aren't going anywhere.
As Su-Lin Ong, head of Australian economic and fixed-income strategy at Royal Bank of Canada, said: "This tightening in financial conditions suggests that the burden will fall on the RBA to support activity, justifying the historically low level of cash for some time and despite the shifting global trend." She expects the cash rate will remain at 1.5 percent through the end of 2018.

On the key front of the labor market there are strong signs: full-time jobs growth surged in May and June, soaking up some of the under-employment that's been a drag. The economy is almost out of the reversal of mining investment that had been weakening growth of late -- another bonus.
That should mean Australia's economy expanding at a healthy 3 percent in the near future and, if it's really lucky, businesses outside the resources industry actually investing in their products.
Commodity Prices
Meanwhile, commodity prices are strong, as China picks up and the rest of the world enjoys a rare synchronized upswing. Lowe's also betting that regulatory measures will slow home lending and cool east coast property prices, engineering the rarest of beasts: a soft landing. The weakness remains household debt -- at a record 190 percent of income and among the world's highest -- which is still outpacing income growth. 
But it's the currency that's the sticking point, after surging more than 11 percent this year to hover around 80 U.S. cents. While some economists might argue high iron ore and coal prices justify a stronger Aussie dollar, the reality is mining companies aren't going to use the windfalls to invest and hire Down Under. Moreover, Lowe actually said in his statement the terms of trade are expected to decline "over the period ahead."
In reality, it comes down to what President Donald Trump can produce for the U.S. economy that will open the door to the Aussie depreciating. In other words, a strong local dollar could be with us for a while yet.
Before it's here, it's on the Bloomberg Terminal.
LEARN MORE