business
A Morgan Stanley Trader's Gone and Wall Street Rivals Take Note
By and
Debt trader leaves for Jefferies after hedge fund concerns

Other traders abuzz over heightened sensitivity on Wall Street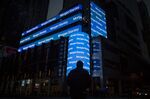 It was a mere foot fault, many Wall Streeters say, a bit of fibbing perhaps between a debt trader and his client. No big deal, they say.
But the young trader, Patrick Brennan, is no longer working for Morgan Stanley after his supervisors received a complaint in recent weeks from a hedge-fund client that he had misled them. While no one is suggesting that Brennan broke any law, the issue raised by Hutchin Hill Capital triggered a review that led to his exit in July, according to people with knowledge of the matter.
Brennan has already been hired by rival investment bank Jefferies Group LLC, but the controversy has traders abuzz -- and a bit astonished -- about just how far firms' crackdown on loose talk with clients has gone. It also points to the new reality in debt markets: Once on equal footing with their fund-manager clients, bond traders today have been reduced to mere market makers for the most part, and their employers are loath to cross customers.
Brennan declined to comment as did representatives for Morgan Stanley, Hutchin Hill and Jefferies.
A 2011 Boston College graduate who did a stint with Citigroup Inc., Brennan joined Morgan Stanley a year ago. His undoing at the bank began when Hutchin Hill, a hedge fund with about $3 billion in assets, noticed someone carried out a trade on a security that it also owned, sparking a decline in the price. The firm determined that Morgan Stanley was involved in the trade and it confronted Brennan, who, according to the people, then misled the client by saying he had nothing to do with it.
Discussing Exit
It's unclear what transpired next but after Hutchin Hill complained to his supervisors, Brennan and Morgan Stanley executives agreed to correct the record with the hedge fund, acknowledging the firm's involvement, one of the people said. Brennan was soon discussing his exit with Morgan Stanley, negotiations that continued as recently as two weeks ago.
Brennan didn't necessarily have an obligation to discuss his trading with Hutchin Hill because this particular transaction had no direct link to the hedge fund, according to the people. But the situation escalated after Brennan's alleged misstatement, they said.
Wall Street banks have become sensitive to any communications that appear dishonest in the wake of criminal prosecutions where traders have been accused of taking advantage of the bond market's opaque nature for their own gain.
Active Trade
The ethics that govern dealer-client interactions aren't limited to an active trade between two parties, according to Mark Williams, a finance lecturer at Boston University's Questrom School of Business.
"As the client, if I felt like I wasn't getting truthful information, I would be concerned," said Williams, who was unaware of the specifics in the Brennan episode.
That's been a shock for many traders, who always operated on the idea that bluffing was everyday business on the street. Having an information edge is critical to outdoing rivals, especially in the distressed debt market. In recent years, prosecutors have described some of those tactics as fraud. (The Brennan transaction didn't directly involve Morgan Stanley and Hutchin Hill carrying out an actual trade, the people said.)
At least four market participants, who asked not to be identified, said they were surprised by the kerfuffle with Hutchin Hill in a market where traders have been known to do much worse.
Before it's here, it's on the Bloomberg Terminal.
LEARN MORE