Your Evening Briefing
Here are today's top stories.
Bloomberg News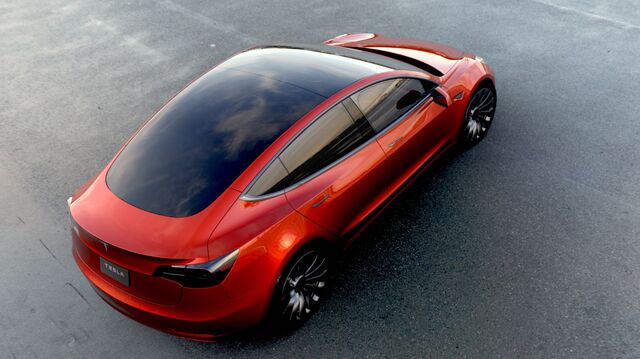 Want to receive this post in your inbox every afternoon? Sign up here.
Mondays are days for fresh starts. (That's the glass-half-full way of looking at it, anyway.) John Kelly arrived at the White House for Day 1 in his new role as chief of staff, and Anthony Scaramucci was ousted as communications director after Day 10. Discovery made an $11.9 billion decision. And Elon Musk surveyed the reaction to the new Model 3.
Mondays are also days for a glass of wine. —Megan Hess
Driving Tesla's Model 3 changes everything. Bloomberg's Tom Randall took the new car out for a spin and has little doubt the age of electric cars has arrived. The Model 3 has plenty of pickup, effortlessly jumping from zero to 60 mph in 5.1 seconds in the upgraded version he test drove, which gets a stunning 310 miles on a charge. The fact that it still looks, drives, and feels like a Tesla—at a starting price of $35,000—shows how far the Silicon Valley automaker has come.
Another White House shakeup. Anthony Scaramucci was  removed from his new job as White House communications director just 10 days after he joined President Donald Trump's staff. "Mr. Scaramucci felt it was best to give Chief of Staff John Kelly a clean slate and the ability to build his own team," the White House said in a statement.
Political drama is hitting the dollar hard. President Trump loves to trumpet the record run in U.S. stocks, but he's hardly tweeted a word about another, less rosy measure of America: the U.S. dollar. The greenback has fallen hard on his watch and currency traders are now betting on even more declines.
Republicans face a tough choice: repeal Obamacare or cut taxes. The GOP may now have to choose between pursuing another health bill or pushing through a tax overhaul this year, because there's almost certainly not enough time to do both. And that's not even their biggest problem — which is that they can't agree on either.
Another tough choice: Do you want cheap airfare or an on-time flight? Anyone buying a ticket on a super-low-cost, low-fare airline knows not to expect any frills. But in recent months, flying on big-bargain airlines like Spirit and Allegiant has often meant delayed or canceled flights. The low fares continue to fill the planes, and all three of the U.S. ultra low-cost airlines remain profitable. But the hassle has been as real for fliers as jet fuel bills are for the airlines.
Alphabet wants to fix renewable energy's storage problem — with salt. The latest idea from the company's X "moonshot factory," which hatched Google's driverless car almost a decade ago, is code named Malta. The lab is developing a system for storing renewable energy that would otherwise be wasted, and it involves vats of salt and antifreeze.
Are the wines from Costco, Amazon, or Hyatt any good? Every wine lover wants a deal. But no matter how cheap, if a wine is too awful to drink, it's not a good bargain. Bloomberg's wine critic Elin McCoy sampled the private-label wines sold by big brands including Whole Foods, Total, Hyatt, Costco, and Amazon to find out which ones are worth buying.
Before it's here, it's on the Bloomberg Terminal.
LEARN MORE