Bruce Springsteen Signs Deal With Universal for Global Song Catalog
By
Group to handle licensing to streaming services, movies, ads

'One of the most iconic catalogs of songs,' UMPG's Gerson says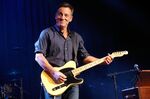 Universal Music Publishing Group will represent Bruce Springsteen's entire catalog of songs around the world under a new deal signed between the music company and the singer-songwriter behind "Dancing in the Dark" and "Badlands."
The deal covers Springsteen's past work and and future projects, the company said in a statement. Springsteen has written and recorded songs for 18 studio albums, starting with "Greetings from Asbury Park, N.J." in 1973. He released his latest album in 2014.
Springsteen is the third major artist to sign a global deal with Universal Music Publishing Group in the past year, joining Jack White and the estate of Prince. This is the first time one company has represented Springsteen's catalog worldwide.
The proliferation of streaming services makes it easier for fans to listen to artists' older work, raising the value of song catalogs. Spotify offers more than 20 Springsteen records, including live performances and collections of popular songs. Streaming has also helped artists identify fans in countries they've seldom visited, generating additional money from touring and paying subscribers for services like Spotify and Apple Music.
Music publishers represent the songwriters, while record labels act for the musician that records a given song. Springsteen wrote his biggest hits, and his work has also been covered by David Bowie, Mary J. Blige and Patti Smith. 
Universal won't own Springsteen's catalog, but it will be responsible for licensing the music to streaming services and placing songs in movies and advertisements. Universal is one of the largest music publishing companies in the world, though smaller than the market leader, Sony/ATV.
"During a career spanning more than 40 years, Bruce Springsteen has amassed one of the most iconic catalogs of songs in the history of music," Jody Gerson, chairman and chief executive officer of UMPG, said in a statement. "We are thrilled to put the entire global resources of our company into expanding the popularity of his music and creating exciting new fan experiences."
Before it's here, it's on the Bloomberg Terminal.
LEARN MORE