Trump's FDA Chief Charts a Policy Shift Beyond Tobacco Products
By
Taking recommendations from longtime drug-agency staff

'Pretty busy agenda across a whole range of different areas'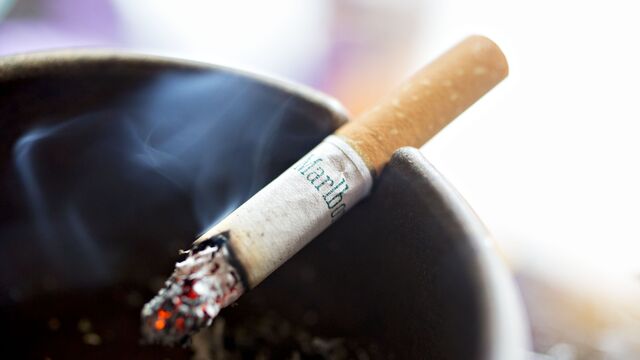 The physician running the U.S. Food and Drug Administration stunned tobacco companies when he said the agency had plans for rules to slash cigarettes' nicotine content. Maybe they should have seen something like that coming.
Scott Gottlieb has shaken things up in his 81 days on the job. He's proposed major policy shifts to ease regulations on some companies, such as in the way generic-drug applications are processed so that cheaper medicines can reach consumers faster. The agency has taken other unprecedented steps to interpret some rules more strictly, such as by requesting that a pharmaceutical company pull a powerful opioid pain medication off the market because of potential abuse.

"I was worried, given the rhetoric about regulation from the current administration, that he would be held back, but he's done really well," said Robert Califf, the last FDA commissioner under President Barack Obama. Califf said his team, in fact, had looked into requiring lower nicotine content in cigarettes, "but we couldn't turn the corner."
Gottlieb, 45, has gained an early reputation for moving swiftly in an executive branch that has been bogged down by political drama and a relatively slow pace in filling key posts across many agencies. It's not clear whether Gottlieb personally sought President Donald Trump's counsel before making the bombshell nicotine-reduction announcement, which sent tobacco industry stocks tumbling, but the White House supported the move.
E-cigarette Tradeoff
While the nicotine-cut revelation took the spotlight, the FDA said at the same time that it would push back by five years, until 2022, a deadline for electronic cigarettes to begin undergoing agency clearance. That harked back to early concerns among some about Gottlieb, who served on the board of e-cigarette maker Kure Corp. and held a financial stake in it.
During his confirmation hearing, some Democrats questioned his ties to the pharmaceutical industry; he had been an adviser to or on the boards of companies including GlaxoSmithKline Plc and was a managing director at T.R. Winston & Co., an investment bank that does deals in the health-care sector. As commissioner, he said he would recuse himself for a year from decisions involving companies to which he had financial or other ties.
Gottlieb has also been a venture capitalist, a fellow at the American Enterprise Institute and an assistant professor at New York University School. He was a deputy FDA commissioner under President George W. Bush.
When it comes to e-cigarettes, his view is that for now, they should be freely available to people who can use them to "transition them off of combustible cigarettes," as he said at his confirmation hearing.
Early Legacy
The Campaign for Tobacco-Free Kids, which can be a tough critic, praised the approach. "To Dr. Gottlieb's credit, when he looked at the issue, he realized that to be effective, the promotion of less-harmful tobacco products must be paired with reduction in the use of the most harmful products," said Vince Willmore, a spokesman for the organization.
The tandem efforts could "become a major part of his legacy," Willmore said.
The FDA's Center for Tobacco Products, headed since 2013 by Mitch Zeller, has studied the idea of forcing cigarette makers to reduce nicotine content to below addictive levels. "A lot of people have been thinking about this for a long time, including experts in the agency," Gottlieb said in an interview Friday.
It wasn't the first time he instituted a policy long promoted by the staff. The FDA moved in June to ease approval of cancer treatments targeted at specific gene mutations. Historically, the agency has sanctioned oncology drugs based on what body part they treat, such as lung, breast or kidney. Rick Pazdur, director of the FDA's Oncology Center of Excellence, has been advocating the gene approach for several years. Gottlieb has a personal interest in cancer treatments, as a survivor of Hodgin lymphoma.
In an interview before the nicotine announcement, he said he inherited a smooth-running ship, calling the FDA "a very efficient organization."
"So I was able to take some early actions here. I have the benefit of having the clear sense of what I wanted to do and also having known the agency, so it's easier to operate," he said. "We have a pretty busy agenda across a whole range of different areas."
— With assistance by Justin Sink
Before it's here, it's on the Bloomberg Terminal.
LEARN MORE