Business
Tapped Out at Home, FC Barcelona Woos American Hearts, Wallets
By
With 100 million fans, U.S. is sport's biggest growth market

Barcelona's plan includes youth academies, women's pro team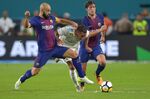 In 1937, a cash-strapped Spanish soccer team came to the U.S. in an effort to stay afloat during a brutal civil war back home. On what is now known as the "salvation tour," the club spent three months in North America, playing a handful of exhibitions that saved the team from bankruptcy.
Eight decades later, FC Barcelona is returning to the U.S. in much better shape. The team is one of the most valuable teams in the world, home to global superstars Lionel Messi and Neymar, and its American expansion is critical to the club's plan to reach about $1.2 billion (1 billion euros) in revenue.
On Saturday the club beat Spanish rival Real Madrid 3-2 in a highly anticipated showdown in Miami. In addition to playing games in America this summer, Barcelona is opening a residential academy in Arizona, part of a wider network of training facilities, and is in talks to launch a California-based franchise in the National Women's Soccer League. Both of those would be firsts for a European club.
"We want to lead in the project of introducing soccer to more and more young people in the U.S.," Barcelona President Josep Bartomeu said. "We know that if we teach them soccer, they will be soccer fans, and probably most of them will root for Barcelona."
Growth Market
It may be hard to imagine the U.S. as a growth market, but among soccer people, America is the object of everyone's affection. There are significantly more soccer fans in the U.S. than there are people in Spain. And unlike in India and China, America's internet, television and social media infrastructure makes it easy for teams -- and, importantly, their sponsors -- to reach those potential fans. 
"It's the largest market in the world in terms of programming and advertising," said Jim Pallotta, an owner of Italian club AS Roma, which was one of the earliest to push into the U.S. "You have to be here."
All of Europe's top soccer clubs have basically tapped out their local markets. Soccer is the dominant sport, club allegiances are regional and there's plenty of direct competition. Speaking for Barcelona, Bartomeu summed it up: "We cannot have more supporters in Spain."
Different Strategies
That's led everyone to the U.S., albeit with different strategies. Manchester City's deep-pocketed owners bought a Major League Soccer franchise. Bayern Munich, the first foreign team to have a permanent U.S. office, has thrown its weight behind digital video and social media.
AS Roma has been more creative. Roma hosted the University of Michigan football team during a trip to Italy this summer. Then the soccer team spent time training in Ann Arbor and participated in a multi-sport skills challenge against the Wolverines. The point is to put Roma in front of U.S. sports fans who might not have a favorite European team, Pallotta said.
These teams also play in the U.S. during the offseason, earning appearance fees for the clubs and giving American fans the opportunity to see their favorite players live. The International Champions Cup, a multicity tour, pays its top clubs around $5 million a game, according to Gilt Edge Soccer Marketing founder John Guppy.
Barcelona's July 29 win over Real Madrid, in front of a sold out crowd in Miami, was so hyped that one local columnist said it might be the biggest sporting event in the city's history, which includes Super Bowls, World Series games and college football championships. Real Madrid's July 26 game against Manchester City in Los Angeles drew 93,098 fans, a record for a soccer match at the Coliseum.
TV Deals
In addition to playing in America, all clubs are jockeying to make their league games easier to watch. That's easiest for teams in the English Premier League, which has an expansive deal with NBC, and harder for teams like Barcelona, whose games air on Al Jazeera's beIN Sports. That said, no team appeared on U.S. TV more in 2016 than Barcelona's 78 total matches, according to Gilt Edge.
By becoming popular with American fans, clubs get more valuable to corporate sponsors. Japanese e-commerce company Rakuten recently agreed to pay Barcelona $64 million a year as its jersey sponsor, a deal that hitches Rakuten's future in the U.S. to Barcelona's growing appeal here.
"How much is a big company willing to pay you for being your jersey sponsor? Part of the answer to that is how you demonstrate your relevance in major markets around the world," Guppy said. "Investments in the U.S. just strengthen your story to future partners."
As a blueprint, Bartomeu points to Barcelona's Hong Kong office, which opened in 2013. The office helped secure the Rakuten partnership and now accounts for about 22 percent of the club's marketing revenue. Bartomeu says that the club's year-old New York office can eventually do better.
All that will be critical for the club's goal of reaching $1.16 billion in revenue by 2021, a 51 percent jump from its $770 million revenue in fiscal 2017. By that point Messi, 30, will likely be retiring, the global soccer landscape will look a bit different, and Barcelona may be searching elsewhere for its next big opportunity.
Before it's here, it's on the Bloomberg Terminal.
LEARN MORE