Pimco Sees the Bank of Canada Turning Cautious
By
10- to 30-year bonds will move higher than short-term rates

Bank of Canada will be 'more cautious' given loonie strength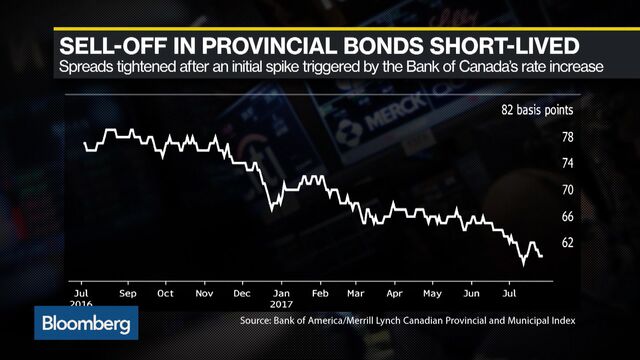 Pacific Investment Management Co. is hugging the short-end of the Canadian bond market, betting the country's central bank will turn cautious after raising interest rates this month.
Ed Devlin, head of the Canadian portfolio at Pimco, the second-biggest U.S. fixed-income manager, said two-year government bond yields are likely anchored around current levels after soaring since the Bank of Canada unexpectedly turned hawkish in mid-June and raised rates July 12. Ten-year and 30-year bond yields could rise another 25 basis points to 30 basis points, he said.
"The bank wants to be cautious in its communication and the tightening of policy especially given the enormous strength of the Canadian dollar," Devlin said by phone from Montreal. Newport Beach, California-based Pimco has assets of $1.61 trillion while Devlin oversees about C$17 billion ($14 billion). "I don't think they want financial conditions to tighten much more than they already have."
Two-year government yields have risen 58 basis points to 1.33 percent and the Canadian dollar has jumped 7.7 percent since June 9, the last trading day before central bank officials began to signal higher rates. Ten-year yields have risen 63 basis points to 2.05 percent while 30-years rose 43 basis points to 2.46 percent.

Economic data have since reinforced the bank's hawkish tilt with core inflation, retail sales and growth all coming in stronger than expected. Investors see a 71 percent chance of another rate hike by October and a 79 percent chance by the end of the year, according to trade in overnight index swaps. 
"Right now is more about capital preservation and staying at the front end of the yield curve and looking for higher yields up the yield curve in the future to invest and make capital gains, or at least get higher yields," Devlin said.
Cautious Language
The Bank of Canada will probably raise rates again this year and likely once or twice next year but will be cautious in its language, he added.
"The likelihood that they go much faster than that is low, the likelihood that they go slower than that is much higher," he added. "Hence why I think the front-end of the yield curve is more attractive."
Pimco will be looking for signs of inflation, particularly in wage data, as well as trade, consumption and residential housing prices, Devlin said.
"Growth has mainly been on the consumer side and not really on exports or investment, and the bank really wants to see that rotation as do we, but we haven't seen it yet," Devlin said. "If we don't see it, I think the hypothesis that the rotation is happening has to be called into question."
Before it's here, it's on the Bloomberg Terminal.
LEARN MORE