New Zealand's Labour Switches Leader Two Months Before Vote
By
Andrew Little stands down after Labour support tumbles in poll

Party members met Tuesday to select Ardern as new leader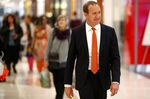 New Zealand's main opposition Labour Party has switched leaders less than two months from a general election after opinion polls showed a slump in support to a 22-year low.
Labour members of parliament selected former deputy leader Jacinda Ardern to take the helm at a meeting in Wellington Tuesday after Andrew Little had earlier stepped down, citing a poll that showed its share of the party vote at its lowest since 1995.
"As leader, I must take responsibility for these results," Little told reporters before the caucus meeting. "I do take responsibility and believe that Labour must have an opportunity to perform better under new leadership through to the election."
Support for Labour fell to 24 percent in a One News/Colmar Brunton poll released Sunday, almost half the 47 percent backing for the governing National Party. However, New Zealand's proportional representation electoral system lends itself to coalitions and Labour's slump in the polls doesn't preclude it from being part of a government after the Sept. 23 election.
"Jacinda has to get them up to the mid 30s to make it truly worthwhile," said Raymond Miller, a professor of politics at Auckland University. "It's from a position in the low-to-mid 30s that they can legitimately attempt to put together a government. It's going to be a huge task."
Labour has an agreement with the Green Party, which has 15 percent support, and may be able to negotiate backing from the populist New Zealand First Party, with 11 percent.
Ardern needs to better articulate her party's policies so that Labour can attract votes from National and be clearly seen as the main opposition party again, said Miller.
Minor Parties
National, which is seeking a rare fourth term in office, won 47 percent support in the 2014 general election and has governed with the backing of United Future, ACT and the Maori Party. All three minor parties are under pressure to retain key electorate seats and remain in parliament.
Little took over the Labour leadership after the party lost the 2014 election with 25 percent of the vote. The party's support has declined from as high as 32 percent in early 2016, and Little revealed Sunday he had considered stepping down as support deteriorated.
Ardern, 37, was elected leader unopposed after being nominated by Little and becomes Labour's fifth leader in nine years. She told reporters she will spend the next few days taking stock of the party's campaign and considering additional policy announcements she would like to add to the program.
"I am a young proposition for the party, but this team has worked alongside me for nine years, they have faith in me and I absolutely believe I am up to the job," Ardern told reporters. "You will have no doubt over the agenda Labour is presenting this election. We will be positive, organized and ready."
Before it's here, it's on the Bloomberg Terminal.
LEARN MORE