politics
May Takes 'Back Seat' as U.K. Cabinet Squabbles Over Brexit
By
Fox clashes with Hammond, Rudd, over free movement of people

Premier's spokesman says free movement to end in March 2019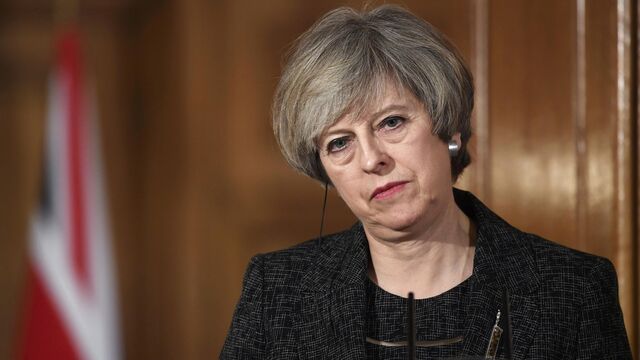 U.K. Prime Minister Theresa May refrained from wading into the latest Brexit squabble to beset her cabinet, this time over the free movement of European citizens and the length of a phasing out.
The premier returned to duties for a day during her three-week holiday to attend a ceremony on Monday in Belgium commemorating Passchendaele, one of the bloodiest battles of World War I. She left it to her spokesman to mediate between cabinet members engaged in low-level political warfare. 

On one side, Chancellor of the Exchequer Phillip Hammond and Home Secretary Amber Rudd laid out a vision for a transition period post-Brexit allowing free movement of EU nationals to Britain to continue for up to three years, so long as they register themselves. Opposing them, Trade Secretary Liam Fox told the Sunday Times that would "not keep faith" with the 2016 vote for Brexit, adding: "I have not been involved in any discussion on that."
May's spokesman, James Slack, on Monday threw a bone to both sides. For Fox, there was an assertion that "free movement will end in March 2019" and that it would be "wrong" to assume it'll continue. And for his cabinet colleagues, there was a reiteration of May's view that there shouldn't be a cliff edge, and that "it will take time to get immigration numbers down." 
The premier may be reluctant to weigh in on the latest dispute over free movement until at least the summer break is over, and probably until after the Conservative Party conference in October, according to Mujtaba Rahman, managing director of Eurasia Group.
May's Fragility
"Given Theresa May is so fragile and her hold on power is so tenuous, I think she's taking something of a back seat," Rahman said in a phone interview. "I don't think we'll get a clarified position until we're outside of this danger zone of the party conference."
Before lawmakers adjourned, there was fevered speculation of a potential putsch to bring down the premier and May was forced to chastise ministers for leaking details of their discussions following a series of stories attacking Hammond.
May's weakness stems from having gambled on a snap election last month in which she frittered away an overwhelming lead in the polls to lose her majority in Parliament. That's emboldened cabinet colleagues such as Hammond and Rudd, who opposed Brexit, to attempt to soften her stance.
But it's also created friction with senior figures like Fox and Foreign Secretary Boris Johnson, who pushed for Brexit and may now have to compromise. From the outside it looks like the cabinet is in disarray, with two sides fighting it out to see who sets the Brexit agenda.
Two Years
Some Brexit supporters in the Cabinet are still determined to limit any transition period to no more than two years, according to a person familiar with the matter. Hammond has previously suggested a three or four-year phase would be needed after Brexit, but the person said there would be no political consensus for a transition lasting so long.
Hammond emphasized later Monday that the debate among ministers is over the process and timing of Britain's changed relationship with Europe, not when or even whether it will leave the EU.
"It won't be postponed or delayed. As Michel Barnier, the negotiator on the other side, the EU negotiator, says, the clock is ticking," Hammond told reporters in Brasilia after meeting with Brazilian Finance Minister Henrique Meirelles. "There is a discussion going on about how we will then move from full membership of the European Union to a future relationship with the European Union. That is a debate, a discussion that will go on through these negotiations."
After a week in Italy and pitstop in Belgium, May heads to the Swiss Alps for another two more weeks of vacation. Parliament returns from recess on Sept. 5, and then there is the Tory Party conference in early October, which will provide clues as to whether May will be challenged.
— With assistance by Charlotte Ryan, Tim Ross, Thomas Penny, and Mario Sergio Lima
(
Updates with Hammond starting in third to last paragraph.
)
Before it's here, it's on the Bloomberg Terminal.
LEARN MORE