business
India's Top Court Orders Hold on Genetically-Modified Mustard Release Until Related Verdict
By and
Delay beyond Sept. may defer GM mustard sowing to next year

Risks highlighted by activists are unfounded perceptions: Govt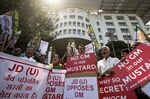 India's top court on Monday put the commercial release of a genetically-modified mustard variety on hold until it decides on a case related to it.
A two-judge panel of the Supreme Court, headed by Chief Justice J. S. Khehar, passed an interim order on a public interest litigation, akin to a class action suit, by activist Aruna Rodrigues against GM crops. Prashant Bhushan, advocate for Rodrigues, argued that an approval could lead to irreversible damage to the country's bio-diversity and environment. The court is scheduled to hear the case in the second week of September.
The journey of genetically-modified crops in India has been bumpy. In 2010, the government rejected a GM brinjal, or eggplant, which could have become the nation's first genetically-modified food crop, saying that there was no overriding food security argument. The move hampered the expansion of seed makers including Monsanto Co., which introduced a genetically modified cotton in 2002, in the world's second-most populous nation.
A delay beyond September would defer sowing of GM mustard to next year as farmers typically begin planting of winter-sown crops like mustard in October, Additional Solicitor General P.S. Narsimha said during the court proceedings. 
A government study found health and environmental risks highlighted by activists are "unfounded perceptions and false propaganda," according to the federal government's affidavit in the court. Mustard production can be substantially enhanced with the genetically modified variety and that would lead to substantial savings in foreign exchange by reducing imports of cooking oils, it said.
The GM mustard, developed by the University of Delhi, is facing hurdles even after an Indian environment ministry panel in May recommended that the government allow cultivation of the GM mustard variety.
Mustard oil produced from crops planted in October and November accounts for about 10 percent of India's cooking requirement of about 21 million metric tons. Its yellow-colored oil is the most used cooking oil in the country after palm oil and soybean oil. India accounts for about 9 percent to 10 percent of global production, according to G.G. Patel, managing partner of GGN Research. The yield of Indian mustard is only 28 percent of the level in the European Union, 45 percent of Canada and 53 percent of China, he said.
India gets more than 70 percent of its vegetable oil requirement from overseas and currently imports soybean oil and canola oil produced from genetically-modified crops, according to the Solvent Extractors' Association of India. The country is the world's biggest cotton grower and typically more than 90 percent of the crop is genetically modified.
Before it's here, it's on the Bloomberg Terminal.
LEARN MORE