politics
Hammond Might Push Back Balancing U.K. Books to 2027, Times Says
By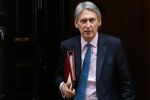 U.K. Chancellor of the Exchequer Philip Hammond is planning to use his budget statement this fall to say it may be another 10 years before Britain's public finances are balanced, the Times of London reported, without saying where it got the information.
A gap in the books due in part to Hammond's 2 billion-pound ($2.6 billion) U-turn on increased National Insurance contributions after his last budget and the 1 billion pounds committed to Northern Ireland to win the support of the Democratic Unionist Party after the disastrous June 8 election are behind the move, according to the report in The Times' Tuesday edition.
Prime Minister Theresa May's small majority in Parliament makes increasing taxes difficult, while the popularity of the main opposition Labour Party's anti-austerity rhetoric means more spending cuts are unlikely, the paper said.
Such a shift in the target would be two years later than the 2025 balancing of the books promised by May's Conservative Party before the general election.
Before it's here, it's on the Bloomberg Terminal.
LEARN MORE