Five Things You Need to Know to Start Your Day
Get caught up on what's moving markets.
By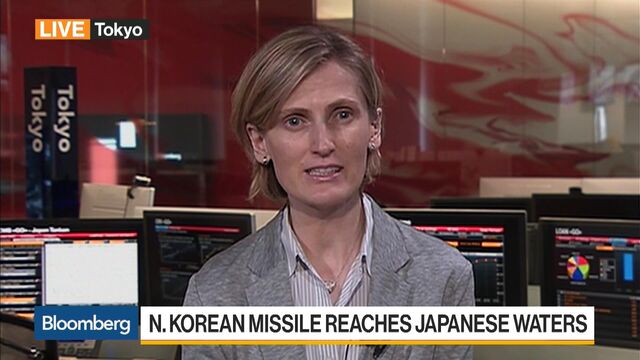 Want to receive this post in your inbox every morning? Sign up here
Saber-rattling in North Korea, oil briefly tops $50, and euro-area inflation holds steady at 1.3 percent. Here are some of the things people in markets are talking about today.
North Korea
Kim Jong Un claimed that the entire continental United States is in range of his country's intercontinental ballistic missiles after North Korea test-fired one late Friday. President Donald Trump reacted strongly on Twitter, expressing frustration with China's lack of action against the Pyongyang regime. The U.S. engaged in military exercises with South Korea over the weekend in a show of strength, while President Xi Jinping said "the world isn't safe at the moment" when he attended a military parade yesterday. 
Oil tops $50
A barrel of West Texas Intermediate crude for September delivery was trading unchanged at $49.71 at 5:15 a.m. Eastern Time after briefly trading above $50 earlier in the session. Short positions in WTI stood at less than half their end-of-June level over the week ended July 25, data from the U.S. Commodity Futures Trading Commission showed. Promises of more cuts from OPEC members, and oil-major quarterly results pointing to reduced investment in exploration, have spurred an uptick in bullish sentiment for the commodity. 
Euro-area inflation unchanged
Consumer price growth in the euro area remained steady at 1.3 percent in July, according to the flash estimate from the European statistics agency. Core inflation, which strips out food and energy prices, rose to 1.2 percent, the highest level in three months. The data come as policy makers at the European Central Bank are gearing up for a fall debate on the future path of monetary policy. A separate release showed that unemployment in the common currency area fell to 9.1 percent in June. U.K. consumer credit growth slowed in June, while still rising 10 percent from a year earlier. Bank of England policy makers, who meet on Thursday to announce the latest interest-rate decision, have recently taken action to reduce the pace of unsecured leading in the economy.  
Stocks rise
Overnight, the MSCI Asia Pacific Index rose 0.3 percent as commodity and energy producers rallied due to the rise in raw materials, while Japan's Topix index slipped 0.2 percent as the strong yen weighed on equity markets. In Europe, the Stoxx 600 Index was 0.3 percent higher at 5:40 a.m. as miners and positive results from HSBS Holdings Plc lifted the region's stocks. S&P 500 futures pointed to a gain at the open. 
King dollar's abdication?
The U.S. dollar has been a big loser against all 16 major currencies this year, with currency traders betting on further declines. Analysts are now predicting the euro will rise to $1.20, from the current $1.1730, a huge turnaround from the start of year levels close to $1.04. A big factor weighing on the currency is the continuing political impasse in Washington as the administration fails to find a way to implement the president's agenda, tempering growth projections in the near-term for the world's largest economy. Those prospects will get an update this week with nonfarm payrolls data due. 
What we've been reading
This is what's caught our eye over the weekend.
Quotes from this Article
Before it's here, it's on the Bloomberg Terminal.
LEARN MORE