Fed's Fischer Warns Political Uncertainty Hurts Economic Growth
By
Lack of clarity on heath care, taxes erode business confidence

Fed vice chair says long-term trends hold down global rates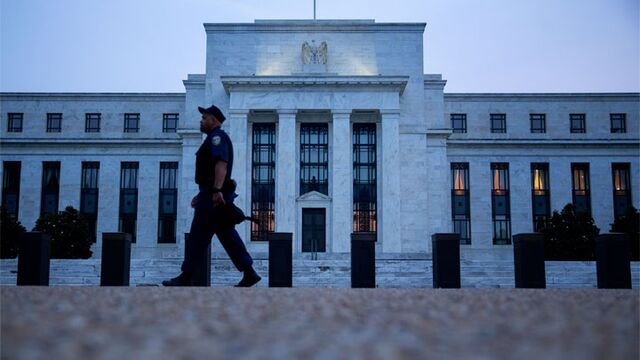 Federal Reserve Vice Chairman Stanley Fischer said political and economic uncertainty has contributed to slow economic growth in the U.S. and around the world.
"Uncertainty about the outlook for government policy in health care, regulation, taxes, and trade can cause firms to delay projects until the policy environment clarifies," Fischer said in the text of a speech he's scheduled to deliver Monday in Brazil.
Fischer's comments were part of a wider diagnosis of why interest rates have remained so low globally. The phenomenon, he said, isn't primarily the result of the current economic cycle, but is mostly driven by longer-term trends found in several developed countries. They include slow trend growth, an aging population and weak levels of investment, he said, all of which pre-date the financial crisis and the Great Recession.
The Fed's benchmark policy rate stands in a range of 1 percent to 1.25 percent, low by historical standards and especially unusual considering that unemployment sat at 4.3 percent in May, a 16-year low. Interest rates also remain low at the European Central Bank and the Bank of Japan, both of which are still engaged in stimulus efforts through bond purchases.
Simulations performed by Fed economists, Fischer said, suggest "the slowdown in growth appears likely to be the primary factor depressing the long-run equilibrium rate, although the contributions from demographics and weak investment demand were also sizable."
Slow Growth
Slow growth, in turn, is largely the result of low productivity and slower growth in the labor force due to demographic factors, Fischer said.
Fischer said transparent and sound monetary policy can help by boosting confidence and spurring investment, but the real cures lay beyond the reach of central bankers.
"Policies to boost productivity growth and the longer-run potential of the economy are more likely to be found in effective fiscal and regulatory measures than in central bank actions," he said.
Fed officials last week said they intend to begin shrinking the central bank's $4.5 trillion balance sheet "relatively soon." They've also signaled growing concern over slowing inflation, but as yet not enough to derail their plan for one more interest-rate increase this year.
Before it's here, it's on the Bloomberg Terminal.
LEARN MORE