Dollar Drop Adds to Longest Monthly Losing Streak Since 2011
By and
Fifth consecutive monthly decline tests levels from May 2016

Euro surges above $1.18 to strongest level since January 2015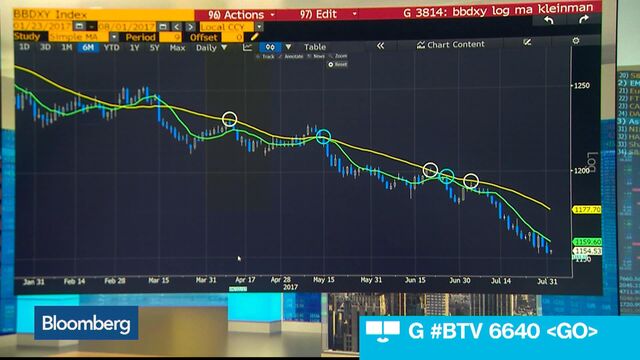 The dollar wrapped up its fifth monthly loss, the longest losing streak since 2011, as a risk-filled week got underway.
The euro rose above $1.18 for the first time since January 2015, while the greenback lost ground against most of its G-10 peers. Among the risks ahead, the Reserve Bank of Australia will announce a rate decision Tuesday, while the Bank of England will follow Thursday, with markets also bracing for dual U.S. and Canadian employment reports Friday.

While neither the RBA or BOE is expected to change rates this week, traders expect that the Friday employment data could feed into policy considerations at the Fed and the BOC
The Bloomberg Dollar Spot index declined 0.3% Monday and was on track for a monthly decline of ~2.5%, the steepest drop since January; it remains near the lowest since May 2016
Anthony Scaramucci was removed from his job as White House communications director, just 10 days after he joined President Trump's staff; the news came in the New York afternoon as the dollar slowly leaked lower, setting new lows on several fronts, including the euro and yen
Concerns persist over the progress of Trump administration fiscal policies, while the Fed has acknowledged that inflation remains below its 2% target. Fed Vice Chair Stanley Fischer said in prepared remarks that political and economic uncertainty has contributed to slower growth in the U.S. and around the world. Fischer's comments were part of a wider diagnosis of why interest rates have remained so low globally
EUR/USD was trading near a fresh high of 1.1845, testing tech resistance at the Jan. 14, 2015, peak of 1.1846. Earlier price action suggested a scramble to buy EUR as it breached 1.1800, perhaps indicative of stop-loss and stop-entry trades. Talk of stops above 1.1850 is consistent with talk of barrier around that area

The euro had earlier rebounded after seeing slight declines on some crosses after ECB policy maker Sabine Lautenschlaeger reminded over the weekend that inflation remains below the central bank's near 2% target. That concern was underscored when euro area core inflation was reported Monday to have risen 1.3% m/m in June and 1.2% y/y, a slightly higher outcome than expected.

GBP/USD briefly touched a session high at 1.3204, highest since Sept. 16, 2016, before paring gains to hover just below the level; the pound and euro both surged as fresh dollar selling emerged around the 4pm London fixing, when dollar-negative portfolio rebalancing flows were expected to materialize
USD/JPY was trading near a session low of 110.22, having earlier been damped by a retreat in the 10-year Treasury yield from its session high. Bids to buy USD are positioned ahead of 110.00 and include interest from Japanese importers and longer-term investors
The Swiss franc was trading higher versus the dollar and lower versus the euro, hitting a fresh 30-month low vs the common currency at 1.144. Sight deposit data from the Swiss National Bank was little changed in the week ended Friday, muting speculation that the central bank may have played a hand as the franc fell to its lowest vs the euro since 2015
Before it's here, it's on the Bloomberg Terminal.
LEARN MORE