politics
Columbus Adopts Incentive Plan as Foxconn Eyes More U.S. Plants
By
Council creates new potential cap on net corporate profit tax

Company considering sister plans after Wisconsin annoucement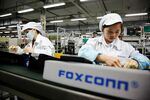 The City of Columbus adopted a new tax incentive on Monday to lure investments from large companies such as Foxconn Technology Group, which is considering additional U.S. plants after announcing a $10 billion facility in Wisconsin.
The policy, which the city council passed on an emergency basis in a 6-0 vote, allows Ohio's capital city and its development partners to negotiate a cap on net-profit taxes for companies that pay a minimum of $1 million annually in the tax. Under the plan, they could negotiate a maximum amount each year for up to 30 years.
Foxconn announced last week that it plans to build a $10 billion plant in Wisconsin to make LCD panels after the state promised as much as $3 billion in government assistance. The company also plans to build additional facilities in the U.S. that will use the panels to make TV and computer screens under its Sharp brand. Sites in the Columbus and Detroit areas are being considered, according to a person familiar with the process and local press reports.
In Wisconsin, Foxconn promised to create jobs with an average salary of nearly $54,000, and state officials said the project could eventually create 13,000 jobs. 
Steve Schoeny, the Columbus's development director, said the city policy wasn't adopted for a specific project but that the aim was to attract investments such as Foxconn's Wisconsin plan.
"We do want to have the City of Columbus in a position where we're ready to compete for large projects that are going to create a very large number of high-quality jobs for some of the most attractive companies in the world," Schoeny said.
Michigan officials have said sites near Detroit are being also considered by Foxconn, and the state passed legislation earlier this month with tax incentives for qualifying businesses capped at $200 million at any one time, the Detroit Free Press reported.
The Columbus incentive only applies to companies with non-retail operations that have annual revenue of at least $7 billion and commit to create no fewer than 1,000 new full-time jobs paying at least $15 an hour, according to the ordinance considered by council.
Before it's here, it's on the Bloomberg Terminal.
LEARN MORE