Brazil's Temer Rallies Allies for Congress Vote on Graft Trial
By and
Government sees smaller chance of new charges from prosecutor

Lower house vote scheduled for Aug. 2 after legislative break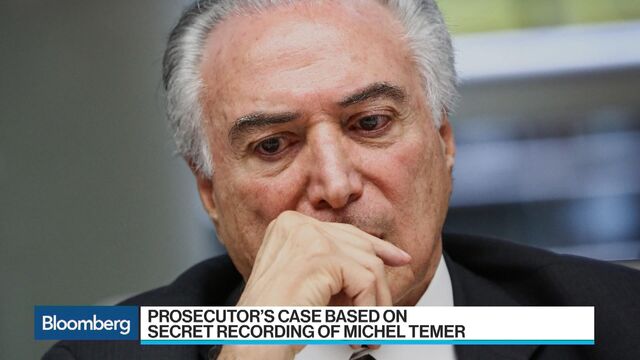 Brazil President Michel Temer is rounding up allies for this week's lower house vote on whether he'll stand trial, marking a shift from a previous strategy to stall the congressional decision.
Temer wants to hold the session rather sooner than later to return attention on economic bills needed to kick-start a sluggish economy, according to interviews with half a dozen legislators and presidential aides. Until recently the government was inclined to delay the vote in case the prosecutor-general decided to file fresh charges before he leaves office in September.

With a solid majority in Congress, the question appears when rather than if the Temer administration will defeat the measure to put him on trial. The government expects between 270 and 280 allied legislators to be present on Wednesday, and Temer during dinner on Sunday demanded unity and support from his closest aides. Lower house speaker Rodrigo Maia will only open the voting session if 342 of the lower house's 513 deputies are present. The opposition needs the same number of votes to put Temer on trial.
How to Try a President in Brazil - a Step by Step Guide
While there's a chance opposition deputies or even some allies won't show up, the government still expects the vote to take place on Aug. 2 as scheduled. Officials have been discreet about their push to vote so it doesn't like a defeat in case not enough legislators show up.
Eight out of ten Brazilians want Temer to stand trial and 73 percent think legislators voting to shelve the move should not be re-elected, according to an Ibope opinion survey cited by CBN radio.
Temer is eager to end political uncertainty that flared after corruption allegations surfaced in May and focus on flagship proposals, such as a pension reform, that have languished in Congress since then. The constitutional amendment to curb pension outlays was approved by a special lower house commission in early May. Maia told local press this month that August may be the last chance to vote on the proposal essential to help fix fiscal accounts.
The president needs backing from 172 lawmakers to prevent a trial. Counting only six of the 11 main parties in Temer's governing coalition, he would have backing from 203 lawmakers, according to a Bloomberg tally of voter intentions.
The opposition's position on its attendance at the session is currently split, with the communist PCdoB saying it will be present and Deputy Alessandro Molon of the Rede party saying his party's lawmakers will only enter the lower house floor if the necessary quorum is already reached.
"It's up to the opposition, which wants to see the president's downfall, to achieve the quorum to vote," said Deputy Carlos Marun, who is a deputy lower house leader for Temer's PMDB party.
Before it's here, it's on the Bloomberg Terminal.
LEARN MORE