Italy Sets Price for Its Share of Monte Paschi Capital Raise
By
Italy to subscribe to increase at 6.49 euros per share

Government took final steps to allow lender to receive aid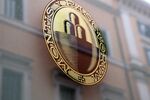 Italy took the final steps to revive Banca Monte dei Paschi di Siena SpA, setting the price for its portion of the aid package needed to keep the world's oldest bank in business.
The government will pay 6.49 euros per share as part of the bank's capital raising, according to a statement from the lender.
Italy earlier this week published two decrees, setting terms for a so-called precautionary recapitalization of the bank, according to the statement. The Siena-based lender needs state support to survive, even though regulators have declared it solvent. Monte Paschi turned to Italy for help after it failed to raise funding from investors in December. The package to recapitalize the bank is worth 8.3 billion euros ($9.8 billion).
Italy is struggling to fix a crisis-era legacy of soured loans weighing on its weak recovery, and is plowing money into troubled lenders in an effort to revamp its banking industry and break a slump in lending. The state plans to inject 3.9 billion euros into Monte Paschi by buying newly-issued ordinary shares, while the remainder will be covered by swapping subordinated bonds into equity, a process known as burden sharing.
The European Commission on July 4 approved the recapitalization after months of negotiations. After the recapitalization the bank's capital will exceed 15.6 billion euros, Monte Paschi said in its statement. Shares resulting from burden sharing and the stock subscribed by the state will be admitted to trading on the Italian Stock Exchange following the publication of the Listing Prospectus.
Monte Paschi is targeting net income of more than 1.2 billion euros by 2021, with a return on equity at 10.7 percent.
Debt Swap
The commission agreed to allow the state to inject the money only after shareholders and junior creditors contributed about 4.5 billion euros to Monte Paschi's rescue, as required by European Union rules to minimize the costs of bailouts for taxpayers. Subordinated bonds will be swapped into new shares priced at 8.65 euros apiece, according to the decrees.
The Treasury will spend an additional 1.5 billion euros to buy back the newly-issued shares from retail bondholders who were mis-sold junior bonds, under terms that will be released later this year, following approval by the relevant authorities. The additional purchase may bring the holding of the state from an initial 55 percent to as much as 70 percent.
In return for the state aid, Monte Paschi agreed to a restructuring that includes steps to improve efficiency and risk management. About 26 billion euros of bad loans will be sold by the first half of 2018 through a securitization, and the company plans to cut 5,500 jobs -- about a fifth of its workforce -- and reduce branches to 1,400 from 2,000.
The burden sharing in the statement Monte Paschi published Saturday involves the following securities:
EU2.2 billion Subordinated Upper Tier II 2008 – 2018
EU80,000 Noncumulative Floating Rate Guaranteed Trust Preferred Securities
EU220,000 Noncumulative Floating Rate Guaranteed Trust Preferred Securities
EU350 million 7.990% Noncumulative Trust Preferred Securities
EU700 million Noncumulative Floating Rate Guaranteed Convertible FRESH Preferred Securities
EU500 million Subordinated Floating Rate Notes due 2017
EU150 million Subordinated Lower Tier II Floating Rate Notes due 2018
EU100 million Subordinated 10NC5 Lower Tier II Notes due October 2018
EU500 million Lower Tier II Subordinated 7.00 per cent. Notes due 2019
EU500 million Lower Tier II Subordinated 5.00 per cent. Notes due 2020
EU500 million Lower Tier II Subordinated 5.60 per cent. Notes due 2020
Before it's here, it's on the Bloomberg Terminal.
LEARN MORE