Your Evening Briefing
Here are today's top stories.
Bloomberg News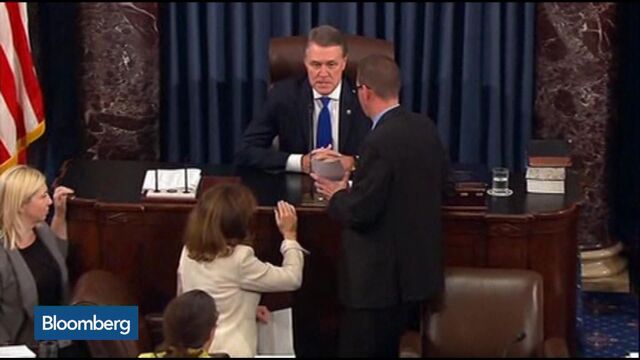 Want to receive this post in your inbox every afternoon? Sign up here.
Good afternoon. It was a late night on the Senate floor, where Republicans failed to repeal the health law in a dramatic vote early Friday morning. It was also a late night on Twitter, where President Trump tweeted "3 Republicans and 48 Democrats let the American people down," at 2:25 a.m. The next steps for a GOP plan aren't clear.
Outside of Washington, Elon Musk is just hours away from handing over the first keys to the Tesla Model 3s. —Megan Hess
Obamacare repeal collapses as Senate GOP blocks health bill.  A months-long effort by Senate Republicans to pass health legislation collapsed early Friday after GOP Senator John McCain joined two of his colleagues to block a stripped-down Obamacare repeal bill. "I regret that our efforts were simply not enough this time," Senate Majority Leader Mitch McConnell said on the floor after the vote. "This is clearly a disappointing moment." Now Trump may try to kill Obamacare slowly.
Russia ordered the U.S. to slash "hundreds" of staffers at its embassy and consulates in a sweeping act of retaliation against the passage of a new sanctions bill in Congress. The White House has given mixed messages about whether Trump will sign the legislation at a time when his presidential campaign is under investigation over possible collusion with Moscow.
North Korea test-fired its second intercontinental ballistic missile within a month, a raising the pressure on the U.S. and China to find ways to rein in Kim Jong Un's nuclear ambitions. Japan's chief cabinet secretary said the missile, launched late Friday night, flew for about 45 minutes and landed in the country's exclusive economic zone.
Reince Priebus hangs in after Scaramucci's epic takedown attempt. The White House chief of staff showed no sign of departing after Trump's new communications director, Anthony Scaramucci, accused Priebus of leaking information about him. Scaramucci called Priebus a "paranoid schizophrenic" and used a wide range of what he later called "colorful" language in a New Yorker interview. He promised to dial it back, but the remarks clearly showed a visceral hatred between the two.
Americans aren't saving money the way they used to. U.S. households scaled back their pace of savings to the lowest level in nine years at the end of 2016. At the same time, wage growth slowed, according to updated government figures. The personal savings rate was 3.6 percent in the fourth quarter of 2016, the lowest reading since a 2.8 percent rate in the final three months of 2007, just as the U.S. was entering a recession.
Why you're being invited to fewer weddings. Not as many Americans are getting married, and the ones who still are have scaled back their weddings, though the affairs aren't necessarily cheaper. The U.S. marriage rate—the number of new marriages per 1,000 people—has been falling for decades.
Rolls-Royce unveils its grandest car yet, the Phantom VIII. It's been 14 years since Rolls updated its flagship chariot, and the result is worth the wait. The car's longevity is a testament to its design, which has gracefully withstood the rigors of time. The revamped Phantom will cost €375,000 ($440,000).

Before it's here, it's on the Bloomberg Terminal.
LEARN MORE