markets
UBS Gets Boost From Fed Rates as Client Activity Surges
By and
Bank beats estimates with quarterly profit up 13.5 percent

Low interest rates squeezed margins in home market, bank says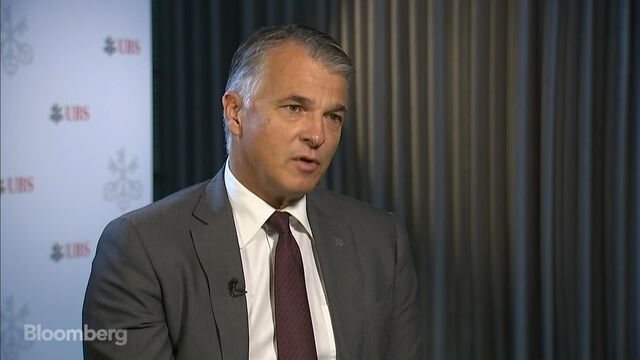 UBS Group AG is getting a boost from rising U.S. interest rates and from clients putting more cash to work in investments.
The bank beat analyst estimates for second-quarter profit with both wealth management units delivering higher results. Net income rose 13.5 percent to 1.2 billion francs ($1.2 billion) from a year earlier. Analysts were expecting 800 million francs, the average of four estimates compiled by Bloomberg.
UBS is seeing clients become more energetic as the world shifts to tighter money flows after years of rate cuts to stimulate economic growth. The U.S. Federal Reserve raised rates twice in the first half and other central banks have signaled they may follow suit. Uncertainty about the direction of monetary policy and concern about the effect on markets had restrained clients.
"Improved investor sentiment and enhanced confidence have translated in wealth management client activity," the bank said in a statement Friday. "However the persistence of low volume levels and seasonality factors may continue to affect overall client activity."
Credit Suisse Group AG, Switzerland's second-biggest bank after UBS, made similar comments in its quarterly report Friday.
Volatility Key


Wealth management contributed 582 million francs in pretax profit, up from 518 million a year earlier when economic and political uncertainties dulled appetite for risk and lowered transaction volumes. That compares with company-compiled analyst estimates of 591 million francs.
Markets were quiet during the quarter, with many investors worried that U.S. stock markets are due for a correction after an unprecedented bull run."Until you see a pickup in volatility, it's difficult to see a change in behavior from our clients," Chief Executive Officer Sergio Ermotti said in an interview with Bloomberg TV.
Net new money in wealth management came in at 13.7 billion francs, despite outflows related to the introduction of euro deposit charges and cross-border outflows. The U.S. private wealth business had outflows of $6.4 billion, also due to "lower recruiting in the quarter," the bank said.
The U.S. brokerage got another boost from the Fed in the second quarter and client activity picked up as wealthy individuals returned from the sidelines. Pretax profit from the U.S. brokerage rose 25 percent to 297 million francs from a year earlier, helping UBS overcome a decline in income from its Swiss business.
Margin Pressure
Investment banking delivered 451 million francs in pretax profit, up from 284 million francs a year earlier. Revenues increased in corporate client solutions, a group that assists on transactions and advises on corporate restructuring.
The results in the investment bank were driven by "strong equity capital markets and higher advisory revenues, as well as in equities," partly offset by revenues from foreign exchange rates, the bank said.
Low interest rates squeezed margins in the home market. Pretax profit from Swiss personal and corporate banking fell 18 percent in the three months through June to 379 million francs. Chief Financial Officer Kirt Gardner told analysts in April that sub-zero rates would limit pretax earnings from the unit to around 350 million francs for the foreseeable future.
Asset management generated 133 million francs in pretax profit, down 10 percent from a year earlier. The bank cited margin compression due to client shifts from active to passive strategies.
In the years since the financial crisis, UBS has scaled back its investment bank to free up capital to comply with tougher rules on loss-absorbing capacity. It had a common equity Tier 1 ratio of 13.5 percent, surpassing its 13 percent target, and a CET1 leverage ratio of 3.7 percent, above the 2020 minimum.
(
Updates with with details of earnings from eighth paragraph.
)
Before it's here, it's on the Bloomberg Terminal.
LEARN MORE