Taiwan Economy Grows Less Than Forecast as Investment Slides
By and
Lower spending by manufacturers, airlines weighs on growth

Government maintains 2017 GDP growth forecast at 2.05%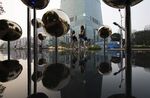 Taiwan's economy expanded less than economists estimated in the second quarter, as companies cut capital investment and exports eased.
Highlights of GDP report
Gross domestic product rose 2.1 percent in the second quarter from a year earlier, according to preliminary data released by the statistics bureau in Taipei on Friday
Economists predicted growth of 2.2 percent
First-quarter growth was 2.6 percent, according to previously reported data. The government will release the final estimate for second-quarter GDP data in August
Key Takeaways
Lower capital spending by Taiwan's major semiconductor manufacturers and airlines and easing exports contributed to the slower-than-expected growth. The government maintained its forecast of 2.05 percent growth for 2017.
Taiwan's economy, which is dependent on hardware technology firms that produce components for Apple Inc. and other companies, is benefiting from the upcoming release of products like the iPhone series. Exports account for about two-thirds of Taiwan's economy, and machinery and electronics make up the bulk of those exports.
But there are risks as a diplomatic standoff with China since President Tsai Ing-wen took office a year ago persists. China, the island's largest-trading partner, has refused all official contact with Tsai's administration after she declined to endorse Beijing's "One-China" policy.
Click to read an explainer on Taiwan's relationship with China

Economist Takeaways
"GDP will likely rebound in the second half of 2017 and in 2018," Chang Liu, a London-based economist with Capital Economics, said in a note after the data. "Government spending should accelerate if the government's infrastructure spending bill is approved next month. Loose monetary policy will also help. In addition, export demand is likely to strengthen."
"Consumer spending was a little disappointing," said Claire Huang, an economist at Societe Generale SA in Hong Kong. "Although government spending rebounded, it was from a low base."
Other Details
Gross capital formation rose 0.08 percent from a year earlier
Exports increased 4.96 percent
Click here to see tables of breakdown by expenditure and by activity
Before it's here, it's on the Bloomberg Terminal.
LEARN MORE