politics
Slovak Police Charge Head of Far-Right Party With Extremism
By
People's Party chief Kotleba charged with promoting extremism

Chief prosecutor proposes dissolving Kotleba's party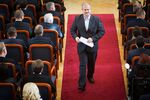 Slovak police charged the head of a far-right party in parliament with promoting extremism as the eastern European Union member seeks to stem the rise of fascist ideology.
Police charged Marian Kotleba, the 40-year-old chairman of the People's Party, in relation with a March sponsorship event during which he gave a disabled-children's charity a symbolic check for 1,488 euros, Interior Minister Robert Kalinak said in a phone interview on Friday. The act was criticized by human-rights groups because the number is part of Neo-Nazi symbols used by white supremacists.
Slovakia, which joined the EU and the North Atlantic Treaty Organization in 2004, has stepped up efforts to confront extremism and hate speech following the unexpected entry of the People's Party into parliament last year. The country's chief prosecutor in May proposed dissolving the party, the representatives of which praise the Slovak World War II Nazi regime that sent tens of thousands of Jews to death camps. Earlier this year, the police charged two lawmakers with hate speech. The cases are still pending.
Kotleba's party has been snubbed by all other parliamentary parties, while President Andrej Kiska has repeatedly called him "a fascist" at public events. Still, it won support among young voters who liked his anti-EU and anti-NATO rhetoric combined with pledges to eliminate corruption. The party would muster 9.1 percent if elections were held this month, a 1.8 percentage point drop from June, according to a survey carried out July 13-24 by Focus pollster on a sample of 1,025 respondents.
Before it's here, it's on the Bloomberg Terminal.
LEARN MORE